Sexual Health Services Engagement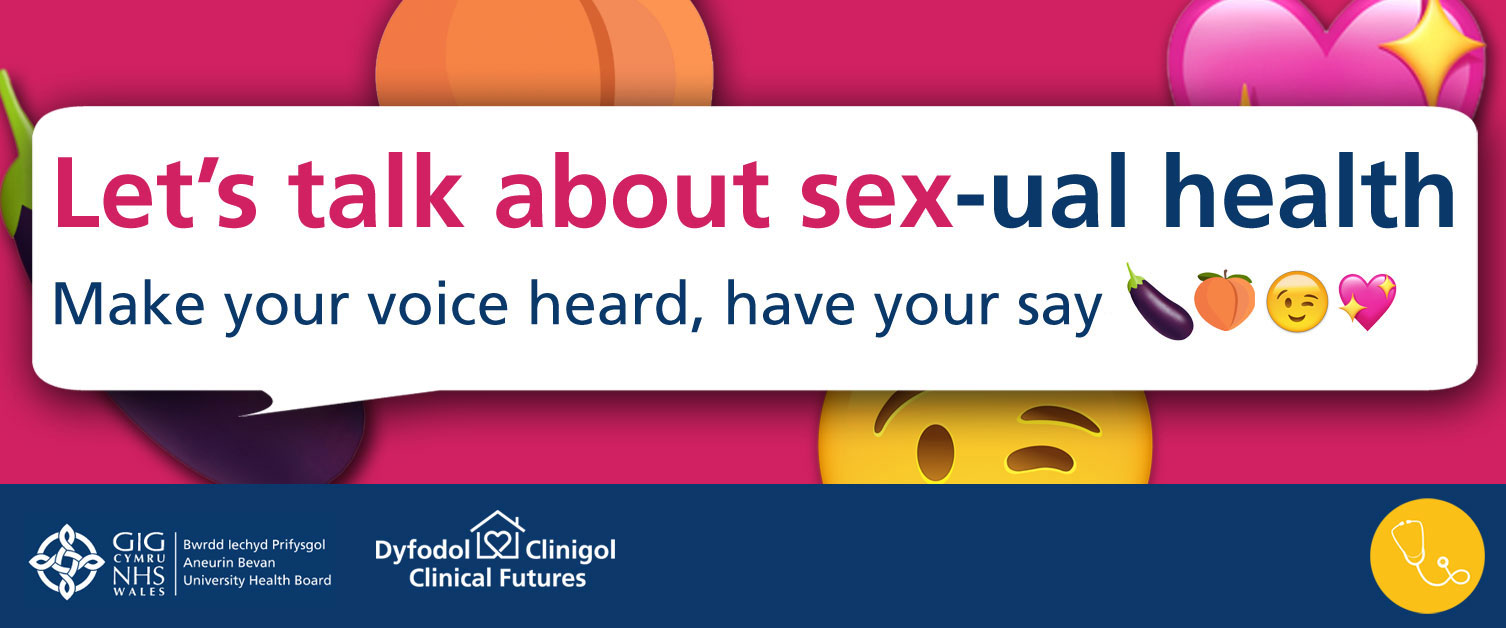 The Future of Accessing Sexual and Reproductive Health Services in the Aneurin Bevan University Health Board (ABUHB) area, Public Engagement.
This Engagement ended on 10th January 2022
Thank you to everyone who responded to the Sexual Health Services Engagement, which ended on Monday 10th January 2022.

Overview
Before the COVID-19 pandemic the Sexual & Reproductive Health service operated on 19 sites offering different levels of provision across the Health Board. This provided a challenge with delivering consistency and complexity of the care we deliver. All patients with complex sexual health needs are currently required to attend the Cordell Centre at Royal Gwent Hospital in Newport. This has provided transport and logistical challenges to some people in the community. Clinics also faced challenges with the dated 'walk-in' model that was offered, where not all patients attending could be seen. We want to improve our sexual health services across the health board area by working with our communities, putting them at the centre of the care we deliver by offering a new modernised approach.
Our Proposal
Sexual Health Services have evolved several times since the Second World War.
The key focus of the original sexual health service model of the seventies heavily leaned toward a 'family planning' model where small community clinics were held across the county, these clinics are still in use today but cannot provide complex sexual health care. We want to deliver a more holistic approach to sexual health care in our communities.
To do this we would like to consolidate our current clinics across the health board area so that all patients can access a sexual health hub, where the care on offer will be consistent across our communities, as well as being closer to our patient's homes, minimising the need to travel to Newport. Through this proposed model it will enable us to provide a comprehensive staff skill mix at each venue so that hub clinics can provide as wide a range of services as possible.
For the full proposal please see below Core Proposal Document and further supporting documents:
In a Nutshell
To improve access to Sexual Health Services we propose:
To offer a Telephone Triage system for the majority of patients which will offer responsive appointments closer to home
Provide a sexual health hub in each county borough (Blaenau-Gwent, Caerphilly, Monmouthshire, Newport and Torfaen)
Operate some 'Walk-in' clinics at the spoke sites across each county borough where specific needs have been identified e.g. young people
Extended hours including evenings and Saturdays at our hubs and spokes
It is important to us that our communities have their say on how their services operate and so we will be carrying out public engagement. This public engagement opportunity runs for 8 weeks from 15th November 2021 to 10th January 2022.
Make Your Voice Heard, Have Your Say.
We really value the input of our local communities to help us coproduce improved access to sexual health services across the Aneurin Bevan University Health Board Area. We are working closely with Community Health Councils (CHC's) and a variety of partner organisations to ensure as many people as possible learn about this proposal and have the opportunity to share their views. There are a variety of ways for you to get involved:
Join Us at An Online Engagement Event
We will also be hosting a variety of online engagement events and welcome you to come along, hear more about the proposals and also raise any questions you might have. Please see below the dates and times of our local engagement events which will be hosted via Microsoft Teams:
Thursday 25th November 2021, 4:00pm - 5:00pm
Monday 29th November 2021, 11:30am - 12:30pm
Tuesday 7th December 2021, 6:00pm - 7:00pm
If you would like to attend any of the public events please email ABB.Engagement@wales.nhs.uk to register, you will then be sent the joining details via email.
Submit Your Views Online
To have your say click the below link to complete the survey on the new proposal.
https://www.smartsurvey.co.uk/s/SARHservices2021/
Complete The Survey in Person
If you would like the opportunity to fill in a printed copy of the survey these will be available at all of our Sexual Health Clinics. Once completed simply hand your survey to the reception team at the clinic.
Alternatively if you have any questions regarding the proposal, please email us: - ABB.SRHreorg21@wales.nhs.uk