Keeping Gwent Well This Winter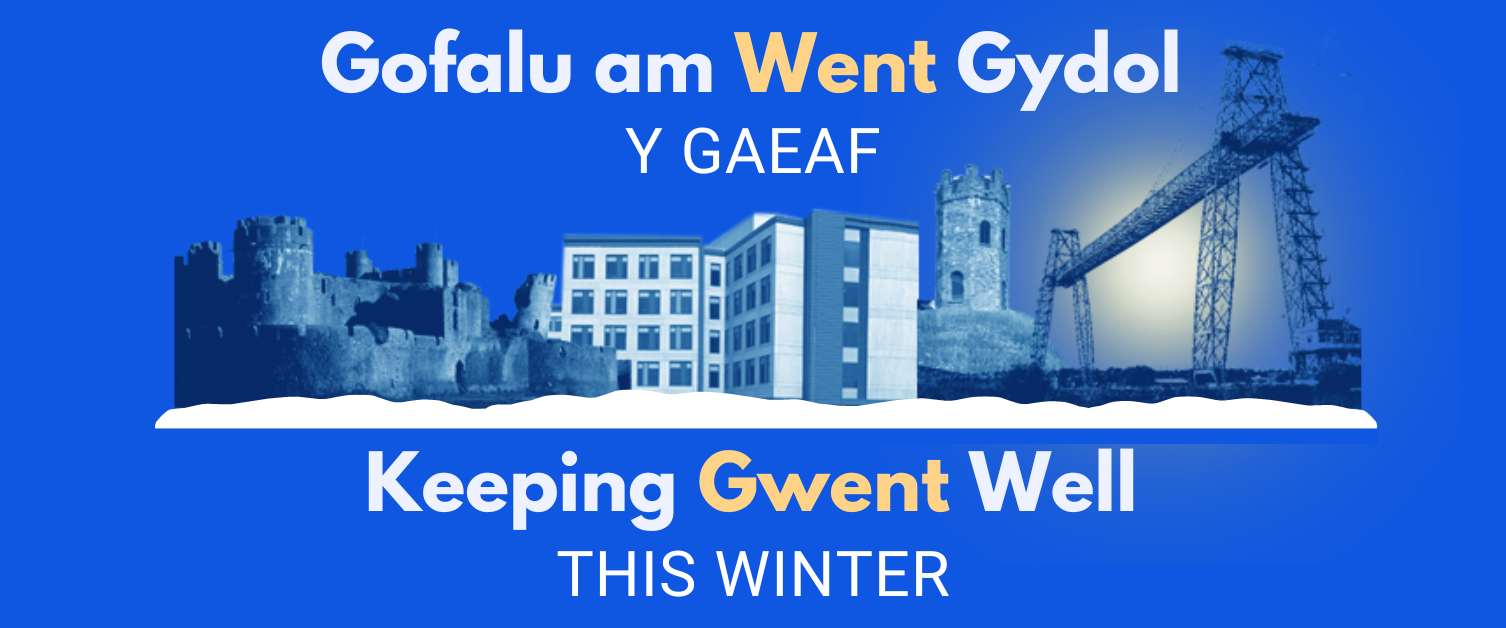 Winter is here – dark mornings and evenings, ice, snow, and chilly winds mean that we're all at risk of needing a bit of extra care, so we want to make sure that you have all the information you need to help you and your loved ones get through the winter safely and comfortably.
No matter how old they are, everyone is more vulnerable to colds, flu and infections in winter. Cold weather can bring on an abundance of illnesses, particularly if you are an older person or have a long-term health condition, such as asthma, diabetes or a heart condition.
By following the advice below, we can all play our part in keeping Gwent well this Winter.
Taking care of our own Mental Well-being, and that of our loved ones, is even more important during the Winter months.
Along with our partners, we've developed Melo- a website to look after the mental well-being of people living and working in these areas; Torfaen, Newport, Monmouthshire, Caerphilly, Blaenau Gwent. Melo is here to help you to develop new skills that will support you when life is difficult.
Some tips to help boost your mood and mental health this winter:
We know that this year, it's more difficult to heat your home than ever before, but keeping warm can make a huge difference to keeping you well.
If you're not very mobile, are 65 or over, or have a health condition, such as heart or lung disease, you should heat your home to at least 18C. Everyone should keep their bedroom at 18C all night if they can, and keep the bedroom window closed. To ensure your heating system is as efficient as possible, get it checked regularly by a qualified professional.
Coughs, colds, sore throats, flu, Covid-19 and sickness and diarrhoea are more common during the winter months. If you have any of these bugs, you should be able to manage the symptoms at home with rest, paracetamol or ibuprofen and ensuring you drink plenty of fluids.
These winter bugs spread quickly and easily. If you have any symptoms, please remember to try and reduce the risks of spreading it…
• CATCH IT
Germs spread easily. Carry tissues and use them to catch your cough or sneeze.
• BIN IT
Germs can live for hours on tissues. Dispose of your tissue ASAP
• KILL IT
Hands can transfer germs to every surface you touch. Clean your hands as soon as you can.
Our hospitals are there to care for you and your loved ones when you need us. When a patient is well enough to return home again, it's really important that they go home as soon as possible to stop their body from deconditioning, which could lead to an overall decline in health, mobility and independence.
When you need medical help, choosing the right service could make a huge difference to the amount of time it takes for you to receive the right care for you. There are lots of ways that you can get urgent help for your needs- see what each service can offer below...