Consultant Psychiatrist acknowledged for her efforts during the pandemic though hand-painted 'The Art of Motherhood' mural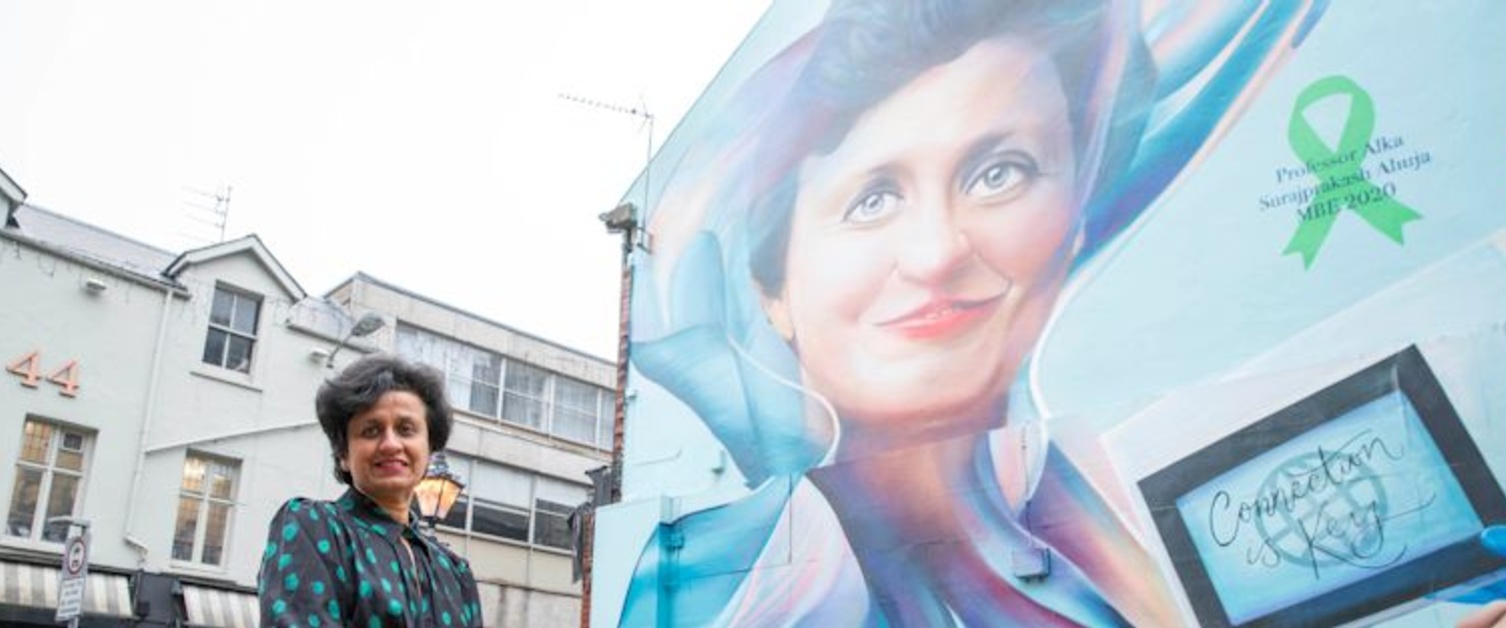 Professor Alka Surajprakash Ahuja MBE, a Consultant Child and Adolescent Psychiatrist in Aneurin Bevan University Health Board has been recognised for her efforts in digitalising local NHS services by Amazon Handmade.
Professor Ahuja, along with the TEC Cymru team, was fundamental in establishing the NHS Wales Video Consulting Service, creating an initiative to allow patients to access healthcare advice and services from their homes during the pandemic. The project touched thousands of lives in the area. Professor Alka Surajprakash Ahuja was recently given an MBE for her contribution to Wales.
Amazon Handmade are celebrating Mother's Day by honouring three women in the country who have 'mothered the nation' through the pandemic. They are recognising Professor Alka Surajprakash Ahuja MBE (50, Cardiff), Jonelle Awomoyi (22, London) and Donna Foote (52, Glasgow) who have each shown extraordinary care and kindness and worked tirelessly to uplift and support others.
They are being honoured through 'The Art of Motherhood' mural series, thanking them for their efforts to care for their local communities. The handcrafted murals are located in Cardiff, London and Glasgow. The beautiful mural representing Professor Ahuja can be found in Quay Street in Cardiff.
Daron Manso, Head of Marketing, Amazon Handmade said: "We're passionate about handmade art and gifts and empowering makers and artisans around the UK and beyond so this Mother's Day we wanted to capture that spirit by creating three unique, handcrafted murals that celebrate the role mothers play in our community. We're inspired by the work Donna, Alka and Jonelle have done over the last 12 months and are excited to work with local artists to celebrate their stories."
The inspiring 'The Art of Motherhood' mural series has been thoughtfully designed and created by leading female street artists: Natasha Rachel, Rosie Woods and Molly Hankinson – members of Graffiti Life, a trail blazing collective of UK creative artists.
Alka commented: "It was vital that the healthcare services continued to provide safe and timely care during the pandemic, while also protecting the workforce. I was lucky enough to work alongside the incredible TEC Cymru team, as we rolled out the National Video Consulting Service at a rapid rate to help to enable safe delivery of care to everyone, especially those who were vulnerable, shielding and unable to access healthcare due to social restrictions. I am unbelievably proud of everything key workers have achieved during this challenging period, and for Amazon Handmade to celebrate our work for Mother's Day fills me with pride and helps show that we can all make a change."