Health Minister visit to Long COVID team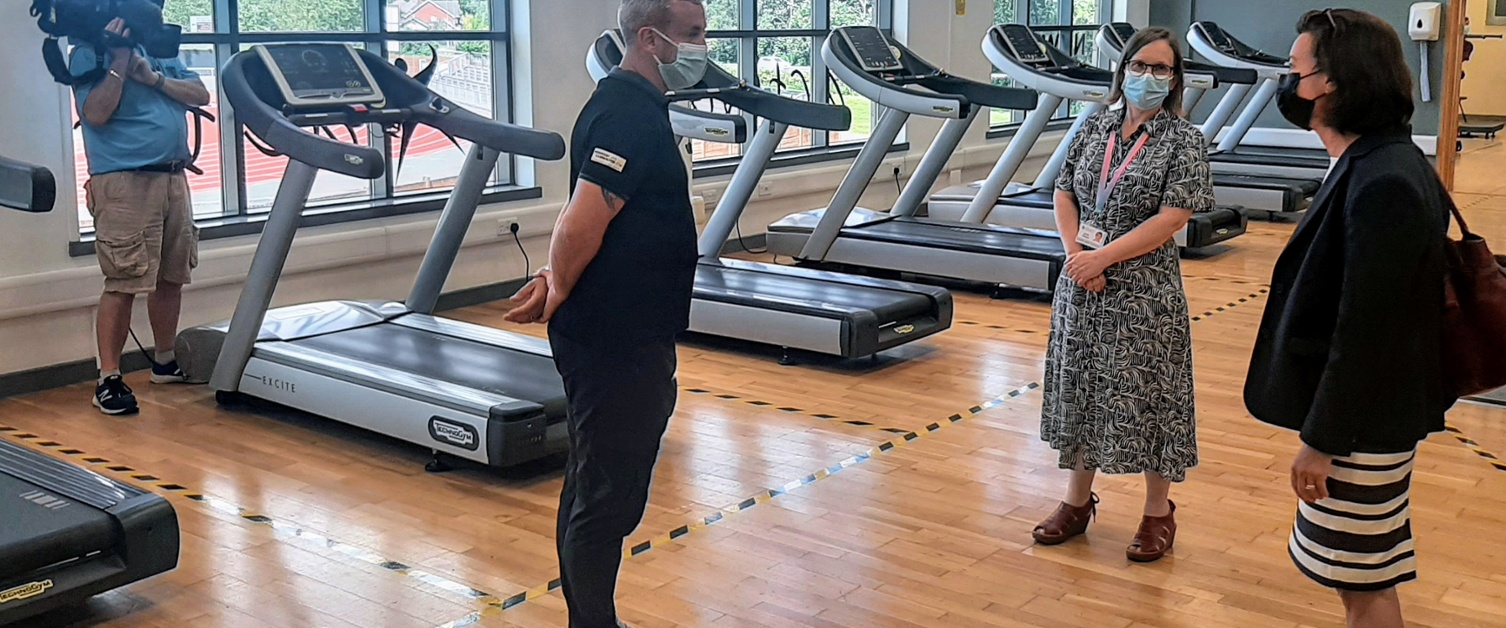 17th June 2021
The Health Board was delighted to host a visit from the new Minister for Health and Social Care, Eluned Morgan, this week. The minister visited Newport Velodrome to hear about our post COVID recovery services.
The Minister heard that by June 2020, rehabilitation support had already been established at the Newport Velodrome and this support programme helped people to recover after being in intensive care with COVID-19. Since then, our programme has continued to develop and also works to meet the needs of patients who initially had less severe COVID-19 illness but are now experiencing prolonged and debilitating symptoms.
The majority of people who experience a COVID-19 infection have a short illness but studies suggest that nearly 1 in 7 people continue to report symptoms at 12 weeks and beyond. Symptoms can come and go and we recognise that for some individuals, there are prolonged effects that involve a wide variety and often challenging symptoms.
The Minister met some of our diverse team of professionals involved in the Recovering from COVID-19 programme. This included colleagues from primary care, psychology, community therapies, specialist consultants, as well as partners in local authorities and the third sector. The team explained the physical, psychological, and social impact of post viral fatigue and the strategies that we have developed to support patients who are struggling with these issues.
The Health Minister said: "It has been fascinating to learn about how we have been tackling the long term effects of COVID, including long COVID and the wider impacts of the pandemic in Wales, both from healthcare workers on the front line and those who have experienced this awful virus themselves."
The Health Board's post COVID recovery network continues to grow. More information is available via https://abuhb.nhs.wales/coronavirus/recovering-from-covid-19/ and any suggestions or questions can be sent to us by email at ABB.CovidRecoveryExperience@wales.nhs.uk
If you or someone you know is experiencing continuing symptoms of COVID-19, our Recovery from Illness Resources https://abuhb.nhs.wales/coronavirus/recovery-from-illness/ may help to manage and improve some symptoms. These resources are intended for people recovering from any illness and the benefits are not restricted to COVID-19.
Our staff are working closely with a group of people experiencing continuing symptoms after having COVID-19, and we are incredibly grateful to this group for sharing their experiences with us. We are regularly organising events that enable us to listen to people who live in our communities and are experiencing prolonged symptoms of COVID-19. If you would like to participate in one of these events or wish to share your personal experience of recovering from COVID, we would love to hear from you. Please send an email with your contact details to: ABB.CovidRecoveryExperience@wales.nhs.uk