Patient Advice for Welsh Ambulance Service Strike Action- 23rd January 2023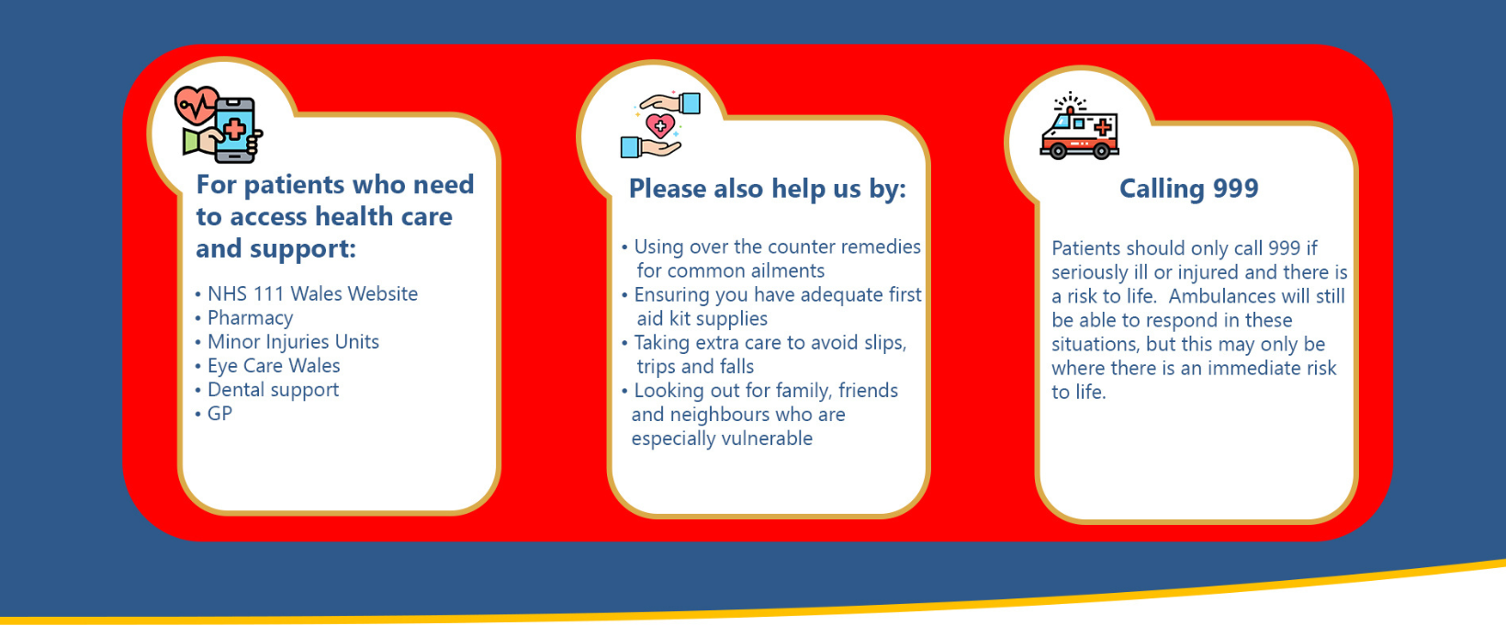 20th January 2023
On Monday (23rd January), industrial action is being taken by a trade union representing staff in the Welsh Ambulance Services NHS Trust. This action will have a significant impact on the ambulance service's ability to respond to calls, and may also cause delays to some of our urgent care services.
Patients should only call 999 if seriously ill or injured and there is a risk to life. Ambulances will still be able to respond in these situations, but this may only be where there is an immediate risk to life, which is likely to continue for the duration of the strike action. During this time, some patients may be asked to make alternative arrangements, such as making their own way to hospital or using another service. Patients whose pre-booked appointments are affected have been contacted directly.
If you have a very serious injury or illness, such as suspected stroke, cardiac arrest or severe bleeding, you should go straight to the Emergency Department at The Grange University Hospital.
We want you and your loved ones to stay as well as possible this Winter- find our tips for staying healthy over the winter period.
If you do find yourself in need of urgent care, remember that there are a number of ways to access this:
NHS 111 Wales
The NHS 111 Wales website should be your first port of call for health advice and information. You can also check your symptoms using their Online Symptom Checker.
Your Local Pharmacy
Your local Pharmacist can provide free advice and treatment for a range of common conditions, including a sore throat, Cold Sores and indigestion. Find out more about the services available at your local pharmacy.
Your GP Practice
Your local GP Practice are open this week and can help if you require urgent care. However, as a result of the strike action, GP practices are expecting an increase in calls from patients requiring urgent treatment and advice. Therefore some practices may consider only providing appointments to those patients with the most urgent and serious health needs during the period of the strike.
Minor Injury Units
Our Minor Injuries Units can treat mild injuries such as sprains, minor burns, dislocated fingers/ toes, and foreign bodies in the eyes and ears.
The Minor Injury Units at the Royal Gwent Hospital (Newport) and Nevill Hall Hospital (Abergavenny) are open 24 hours a day, 7 days a week, with Ysbyty Ystrad Fawr's Minor Injury Unit (Ystrad Mynach) open 9am until midnight. The Minor Injury Unit at Ysbyty Aneurin Bevan (Ebbw Vale) is open Monday-Friday, 9am-5pm. Find out more about our Minor Injury Units.
Full details of the GMB strike are available on the Welsh Ambulance Service website.