Relatives Share Experience with the First Integrated Care After Death Team in Wales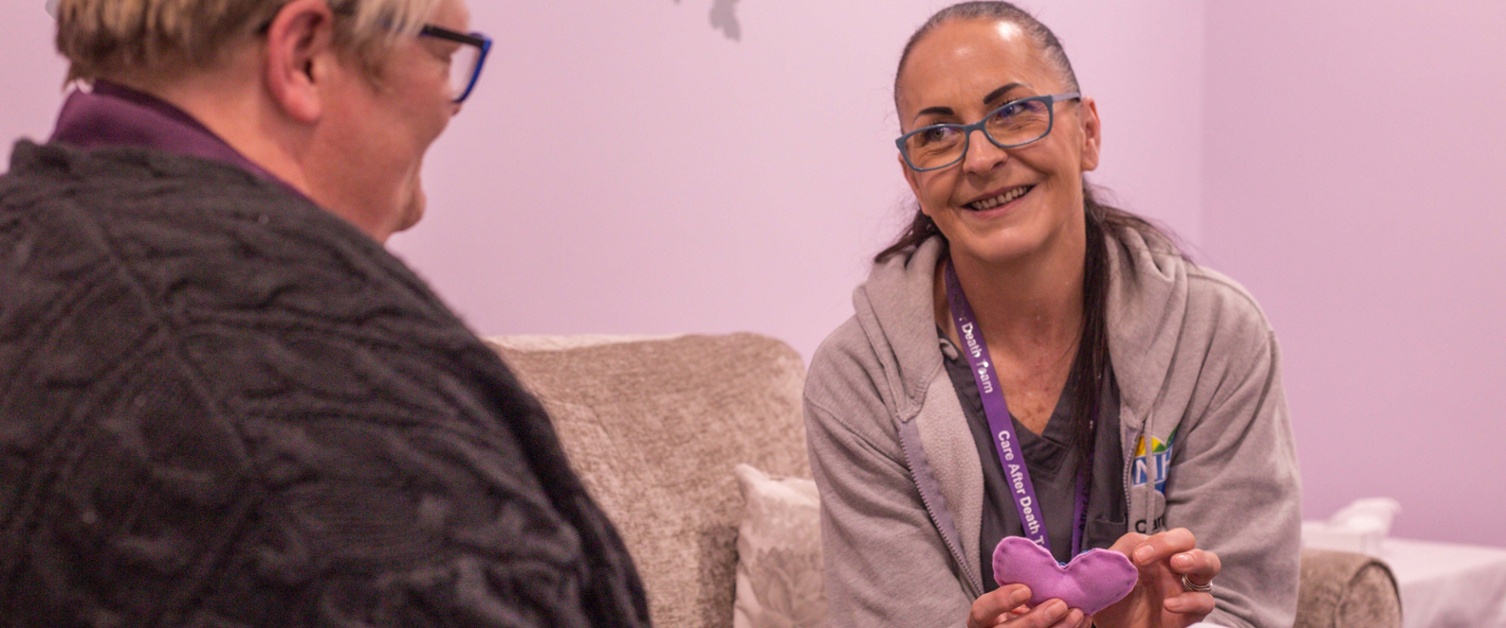 Tuesday 2nd August 2022
A new team at Aneurin Bevan University Health Board has been making strides towards changing care after death culture.
84-year-old David Roy Evans of Princetown sadly passed away on 26th April 2022 at Nevill Hall Hospital. Due to the rapid and unexpected nature of Roy's decline in health, not all family members were able to say goodbye in time.
"I never expected when he left the house a few days earlier that he was never coming back again. I could never express my gratitude at being able to come and say goodbye to Roy after he passed," said Marion Evans, Roy's wife of over 62 years.
Bereavement and mortuary teams historically have existed separately, but this team have recently shown how an integrated Care After Death service linking up can have benefits to the experience faced by relatives of deceased loved ones.
Granddaughters Gemma Turner and Sadie Evans were soon in touch with the service that accommodated a viewing the next day. The family were invited to write on cards and take their time to say goodbye in their own way. The team went out of their way to make sure Roy held a red rose and lowered him to a level that wife, Marion, could see him in her wheelchair.
"In a stressful time, they were empathetic and understood the situation. When we were taken to a room which was calm and comfortable it made what is an awful experience somewhat more comfortable," said Gemma, Roy's granddaughter.
"It was peaceful. I did not know what to expect as I hadn't seen a deceased person before. It wasn't scary and I'm glad I did it. Just having that time where you're not rushed and take it at your own pace," said Sadie, Roy's younger granddaughter.
Personal bereavement connections from the team's own life experiences ensure that the service is one that goes above and beyond to look after patients and their loved ones during what is often a chaotic and emotional time.
"It's not a body to us, they are still a patient, even when deceased and it's the little bits that help support the families of deceased patients even more. The deceased patients and the relatives are at the centre of what we do," said Lorraine Hughes, Care After Death Manager.
Passionate team members have also been raising charitable funds alongside donors to help support the creation of memory boxes, with Lorraine even recently completing a skydive in aid of these efforts. These boxes can contain handprints or locks of hair of loved ones and purple hearts upon family requests.
"A lot of our Nanny's memories and comfort with Roy, was from holding his hand, always warm, keeping her safe. Handprints are such a simple thing, but it means so much to us that handprints were done without us even asking. At those times, it can be a struggle to think clearly, so to have that keep sake provided without us having to request it is extremely appreciated," said Gemma.
"He was very clever, very bright. During his life he was Captain of the Rhymney Rugby Club and Tredegar & Rhymney Golf Club. He was even nicknamed Pathfinder during his army days. He was always leading the way for us," said Sadie, Roy's younger granddaughter.
At most Health Board sites, the service now provides a single face-to-face support function covering from the passing away of a patient, up to the release of the patient to funeral directors. The service has a collaborative approach to working with other services too like registrars, funeral directors, charities, and the new Medical Examiner Service.
The team liaises with healthcare professionals to progress documentation, coordinates paperwork and provides support when relatives view patients at hospital sites. They also signpost to help bereaved families to find the right support going forward and ensure that patients all receive the same dignified, appropriate care and safe transfer to the care of funeral directors. This all means that families are kept well informed, and the process remains as streamlined as possible.
"The paperwork involved before the funeral directors could pick him up, meant he didn't get to them for 10 days, so if the team didn't provide that service, we wouldn't've been able to see him," said Gemma.
"They asked how nan was doing, they provided emails for support and signposted where we could go. We were given the time to collect our thoughts as a family, process what had happened and say goodbye. I just want to say thank you and wouldn't it be amazing if everybody could have that support that we received when losing somebody," she continued.
Feedback has also been received from other families that have been thankful for the service. One relative, Zara Phillips wrote "It's an amazing job you do, you must bring comfort to so many people, us included. Thank you, I can never repay you for what you have done, you've given my family the most comfort we could have at this time. Thank you again for today for reaching out to me, you have gone above and beyond for us."
It's all put together on the premise of providing the one point of contact and this works well to aid families with one team to contact if they need any update or information on this delicate process.
"We have a fantastic team here that supports each other and knows how important it is to provide the best possible care during traumatic times. I am hopeful that we can continue to provide training and guidance to other healthcare professionals towards ensuring that patients always get treated with respect and dignity in life and after death," Lorraine continued.