Where Can I Get Medical Help Over the Bank Holiday Weekend?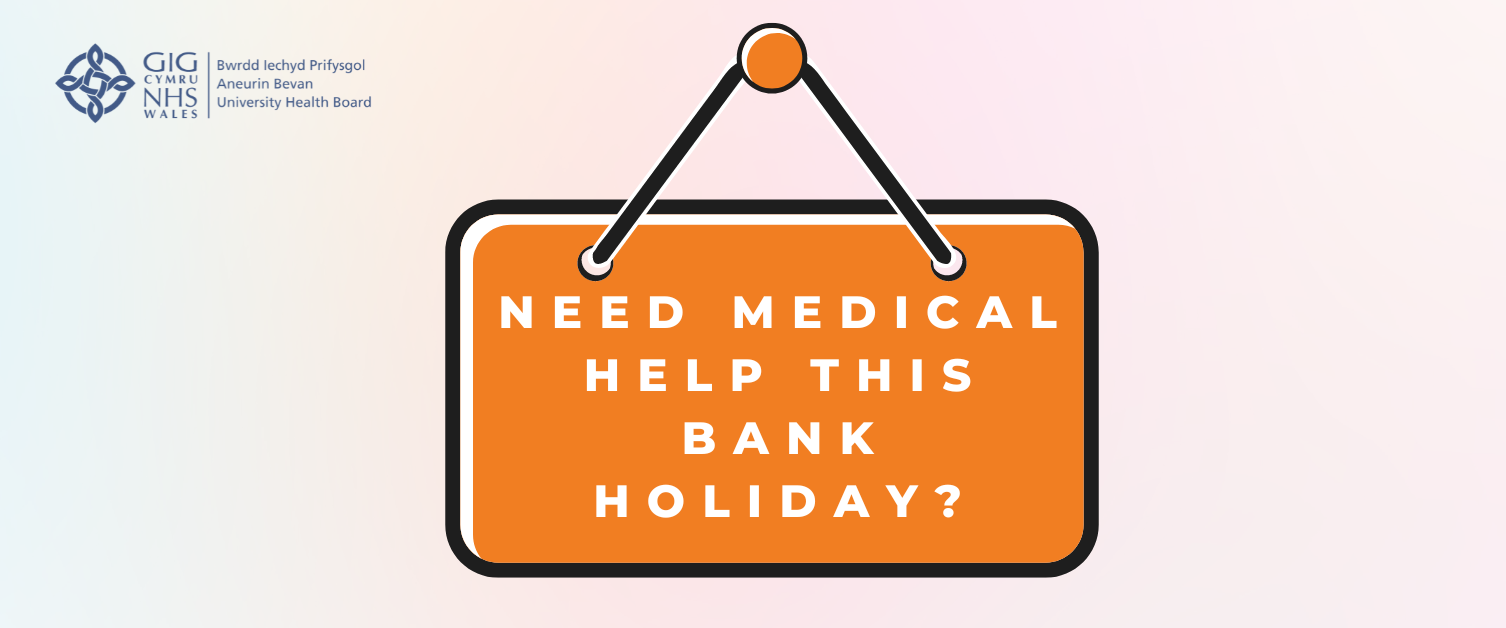 We're here for you 365 days a year, 24 hours a day. While we want the Bank Holiday weekend to be as stress-free as possible for you, we know that you may still need our help. It's not always easy to know what's available on a bank holiday, which is why we've compiled a list of services that will be there for you this weekend.
Use the guide below to choose the right service, first time. Remember- lots of minor ailments and small accidents could be treated at home with the help of your medicine cabinet!
---
Treatment at Home
Mild common illnesses such as coughs, colds and sore throats can easily be treated at home over the bank holiday with the help of a well-stocked medicine cabinet. A number of accidents at home can also be treated with basic first aid, which is why having an up-to-date first aid kit at home is important.
I need help with:
I need:
NHS 111 Wales has a 24/7 online service, and can provide you with free health information and advice over the bank holiday.
You can use the online symptom checker to check your symptoms if you're feeling unwell and need urgent help- from dental pain to back pain, skin rashes to bites and stings; there are more than 60 symptom checkers to give you trusted advice on your next steps.
You can also find tips on keeping healthy, stopping smoking, exercising, eating well and looking after your mental well-being.
The 111 telephone service is there for you when you need urgent health advice or are unsure where to go. Available 24 hours a day, they can advise you which service is best for you or how to manage an illness or condition. If you need to access our GP Out of Hours service over the bank holiday, you can do so by calling 111.
Remember- If it's a life-threatening emergency, you should call 999 immediately or go straight to the Emergency Department at The Grange University Hospital.
Visiting your local pharmacy is a great way to get expert advice and treatment for common conditions, including hay fever, conjunctivitis, in-growing toenails and chicken pox.
They'll be operating on reduced hours over the bank holiday- see below to find your closest open pharmacy over the weekend.
If you have an urgent dental problem that can't wait until your own dentist opens after the Bank Holiday, you can contact the Dental Helpline on 01633 744387, where a limited number of urgent appointments are available at Clytha Clinic, Newport, and/or advice can be obtained.
Community Pharmacies are also well placed to provide advice on pain relief and over the counter remedies if required, and you can also visit NHS 111 Wales Online for advice.
Please note that toothache on its own (for example, toothache with no other accompanying symptoms or signs) is not a dental emergency. Patients with toothache should not attend the Emergency Department.
Adults and children over one year old with a wide range of injuries can be treated at our Minor Injury Units (all children under one year old will need to go to The Grange University Hospital with a minor injury).
Over the bank holiday weekend, you can visit the Minor Injury Units at the Royal Gwent Hospital, Newport, Nevill Hall Hospital, Abergavenny, which are open 24 hours a day, and Ysbyty Ystrad Fawr, Ystrad Mynach, which is open until 10pm.
Please note that Minor Injury Units cannot treat illnesses or serious injuries. If you are unsure where to go, contact NHS 111 Wales for advice and guidance.
If you have a serious or life-threatening condition that needs immediate medical attention, you should dial 999 immediately, or go straight to the Emergency Department at The Grange University Hospital.
The conditions that should be treated at the Emergency Department include severe breathing difficulties, persistent severe chest pain, heavy blood loss, severe burns, loss of consciousness, suspected stroke, deep wounds, and serious trauma injuries (such as after a car accident).
Please note that children under 1 years old who are in need of any hospital care will need to go to The Grange University Hospital for minor injuries, as well as for more serious conditions.
If someone is injured or hurt, you should:
• First, check that you and the casualty aren't in any danger, and, if possible, make the situation safe
• If necessary, dial 999 for an ambulance when it's safe to do so
• Carry out basic first aid
If you're having a Mental Health crisis, you shouldn't have to deal with it on your own.
If you have already been given a Crisis Line number from a health professional, please call it.
If you're under the care of a mental health team and have a specific care plan that states who to contact when you need urgent care, please follow this plan.