Transforming Adult Mental Health Services in Gwent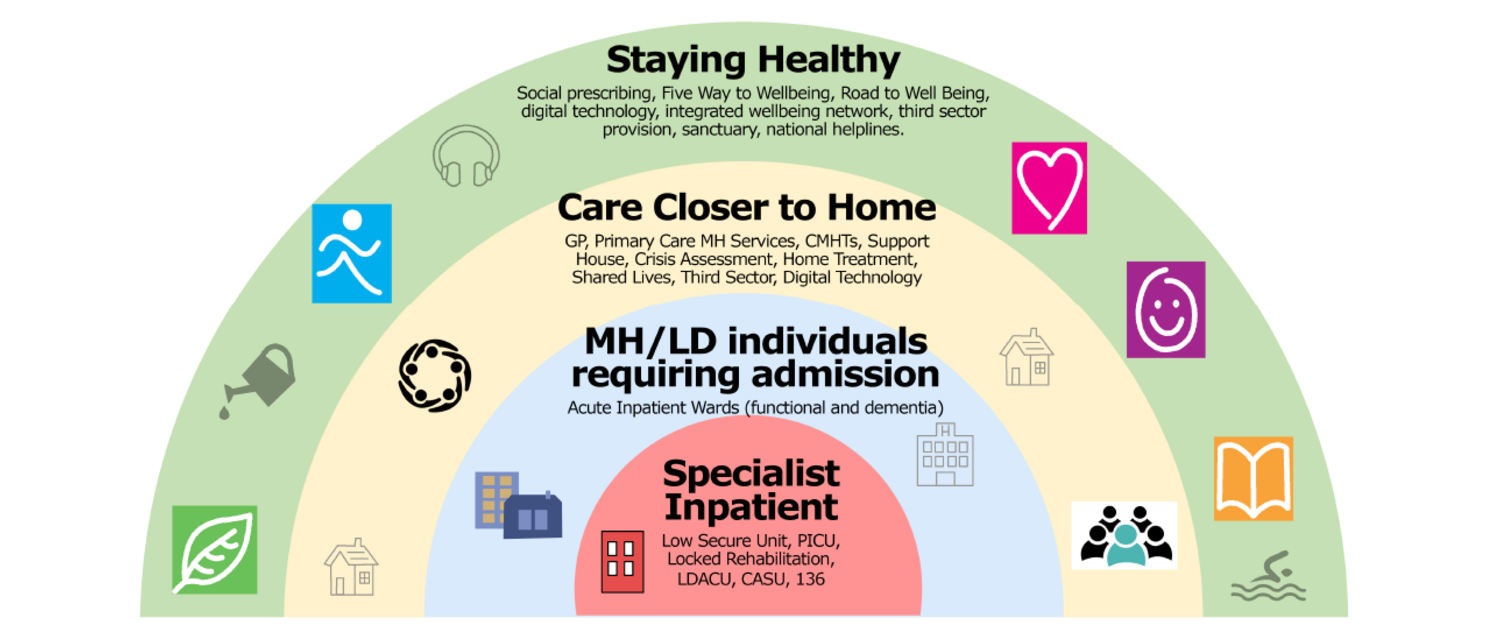 June 2021 Update
Following our Public Engagement, we have carried out an analysis on responses and all comments submitted. The report and analysis has been presented to the Aneurin Bevan University Health Board Executive Team and the Gwent Community Health Council Committee.
Our findings are published in the following documents, which are available to view and download:
Public Engagement Summary with Thematic Analysis
Equality Impact Assessment- Appendix 4
We will publish our next steps as soon as possible.
---
March 2021 Update
Our Public Consultation on Transformation of Adult Mental Health Services in Gwent closed to responses on 21st February 2021.
We wish to thank everyone who attended events, virtual meetings, as a group or as individuals; as well as the other direct contacts made to us. This has offered the MHLD Engagement Team a high volume of valuable information to work through to achieve an initial report and analysis.
The MHLD Engagement Team were invited to meetings and activities with stakeholders and public. We hosted public meetings and meetings with our workforce colleagues. In addition to the survey responses, views and experiences offered at all these meetings also contribute to the report.
The MHLD Engagement Team is currently completing a report and analysis on the views and experiences offered from Public, Service Users, Carers, Service Partners, MHLD service stakeholders and our Workforce.
The responses and analysis will be published later this year.
The report and analysis will be presented to ABUHB Executive and The Gwent CHC Committee in May 2021 and recommendations for next steps will be advised following those meetings.
The time you have taken to contribute, as well as your views and experiences are much appreciated and valued.
"Thank you"
---
Aneurin Bevan University Health Board – Mental Health and Learning Disabilities Division is pleased to officially launch a new public engagement to help improve adult mental health services across Gwent.
The Health Board would like to invite people living in Gwent to contribute their experiences and views on how we can transform mental health services for the adult population of Gwent. Our aim is to deliver high quality, compassionate, person centred mental health and learning disability services and we strive to deliver excellent outcomes for individuals and their carers.
The discussions already taking place routinely in our services have helped us to think differently about how we can redesign and improve our mental health services. We know that services may not always feel joined up. We want every individual who receives support to have the best possible experience and outcome. We want people to be able to access high quality services as near as possible to their usual place of residence, in their communities, helping them stay well and out of hospital where possible. When individuals need to be supported in hospital we want them to feel supported by the right staff, in the right environment with clearly agreed outcomes and a focus on recovery.
We are delighted to launch this formal engagement to ask people for their opinions on our ideas and proposals. In order to develop and deliver the very best services we want to take into account the views from as many people as possible including people who access services, carers, friends, families, our staff and our partners. It is vital for the future that we have the support from those who use services, healthcare professionals and the public, so that we can implement an adult mental health service model that is truly co-designed by those who both access and help to provide services.
We would encourage everyone to get involved with this engagement and to make their views known. We know from feedback so far there is a great energy and determination to work together to improve mental health services across Gwent. This formal engagement offers a fantastic opportunity to develop forward thinking recovery focused mental health services that offer care, compassion and proactive support. By working together to shape our plans, we can all make a positive difference.
Contact Us
If you would like to ask a question, you can at any of our events or;
email: ABB.MHLDEngagement@wales.nhs.uk
Or Freepost; Gwent MHLD Division
Lodge Rd,
Caerleon,
Newport
NP18 3XQ
Public Engagement Documents
Easy Read Documents
Closing date for this Public Engagement: 21st February 2021
How to join a Public 'virtual' Meeting
The Public Engagement 'virtual' Meetings will be delivered via Microsoft Teams.

You can join the meeting on your computer or mobile device by clicking on the meeting link in the table below:

Wednesday 13th January 2021

10:00 -11.30

13:00-14:30

14:00-15:30

14:00-15:30

10:00-11:30

17:00-18:30

Friday 19th February 2021
10:00-11:30
Housekeeping for Public meeting:

Agenda Public meeting:

All meetings will be recorded for audit and to support in gathering any questions

Please can all attendees remain on 'MUTE' unless asking a question

If you have a question on this engagement content that you would like to submit prior to the meeting, you can do so by replying to this email.

A presentation will be given at the meeting outlining what happens now and our ideas.

There will be a Question and Answer opportunity at the meeting

,

you can ask questions about our ideas.

NB: If you do not have Microsoft Teams on your device, you will need to download it in advance of the meeting to enable you to access the meeting (the Microsoft Teams App is free to download) Please contact us on ABB.MHLDEngagement@wales.nhs.uk if you need instructions on how to do this.
Frequently asked Questions
Here are some Frequently Asked Questions. We will add more to these pages as we receive them from people.
Videos
These videos support to inform the changes we wish to explore with you to transform some of our adult mental health services:
1. An Introduction to our overall Engagement
2. The Foundation Tier
3. Mental Health Services in Primary Care
4. The Crisis Service
5. Special Inpatient Services Unit
6. South East Wales Shared Lives Scheme Case Study- Nikita's Story