Our new specialist and critical care centre – The Grange University Hospital – will provide a centre of excellence in the centre of Gwent to treat the area's sickest patients. The hospital will have 560 beds (including trolleys and cots) and feature a 24-hour Acute Assessment Unit, Emergency Department and Helicopter Pad.
Construction by the main contractor, Laing O'Rourke, commenced during the summer of 2017. The hospital is due to be completed by the autumn of 2020 and receive the first patients during the spring of 2021.

The hospital will be a central resource for Gwent that will provide care for people who are seriously ill or have complex problems or conditions that cannot safely be managed in one of the LGHs.
It will provide a 24/7 emergency admissions service for patients requiring Specialist and Critical Care services and after 10pm each night, admissions from across Gwent and South Powys.
All emergency admissions for major illnesses and injuries and those in need of resuscitation;
All Emergency Surgery and Trauma care
All Major and Co-morbidity (more than one serious condition) Surgery
Emergency Assessment Unit
Critical Care
Acute Cardiac Unit
Cardiology Inpatients
Hyper Acute Stroke
Acute Medicine
Obstetric inpatients and high-risk births
Children's Assessment Unit
Neonatal Intensive Care and Special Care Baby Unit
Paediatric inpatients
Paediatric inpatient surgery
Diagnostics
Emergency endoscopy
However minor injuries or illnesses will not be treated at this site and there will be limited outpatient provision as this will be available at Local General Hospitals.
Parking
Parking is often an issue at some of our Local General Hospitals due to their location and use. The Grange University Hospital has been planned with:
600 car parking spaces for staff
300 spaces for visitors
20 spaces Children's Assessment Unit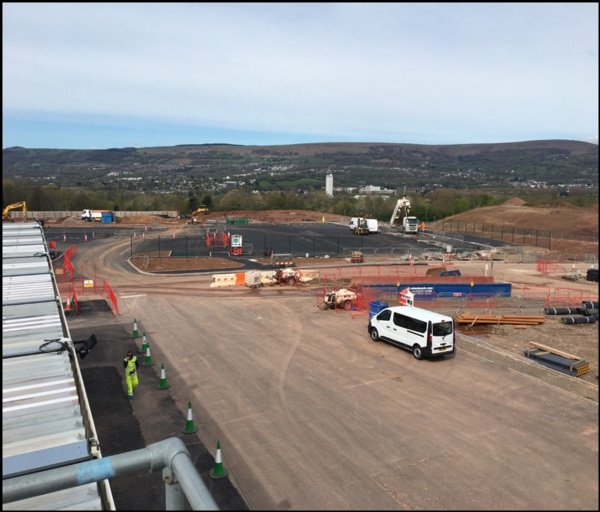 Development of car parking area