Five Ways to Improve Your Well-being
There are five steps we can all take to protect and improve our mental well-being. They are called the Five Ways to Well-being.
They were developed by the New Economics Foundation. You can find more information about them here.
The Five Ways to Well-being are:
---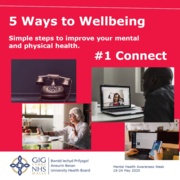 We get positive benefits and good feelings from connecting with people around us. At the moment, for many of us, staying in touch with people we care about is more difficult than usual.
We need to connect with family and friends in different ways. Agreeing regular check-in times with friends, family and workmates by phone or online will help us feel connected and less isolated.
---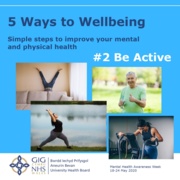 Being active can make us feel good. When we are active our bodies release natural hormones which help reduce stress and anxiety, boost self-esteem, and give us energy. This is very important at the moment, when many of us have new pressures in our daily lives.
Taking part in outdoor activities such as; walking, cycling, gardening or indoor activities such as yoga can improve our well-being. There are many free online group workouts available. What is important is for you to find something you enjoy. Some activities will be better for you than others, due to your health conditions, age and ability.
If you are working from home, build in an activity break and stretch regularly.
---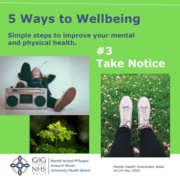 Paying more attention to the present moment can improve your mental well-being. This includes your thoughts and feelings, your body and the world around you. This approach is often called Mindfulness.
An important part of mindfulness is reconnecting with our bodies and the sensations they experience. This means waking up to the sights, sounds, smells and tastes we feel at that moment.
There are some great apps available to help you practice mindfulness. Some including 'grounding' and breathing methods which may help you cope with stress and anxiety. See the 'mindfulness' section.
---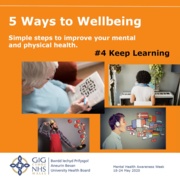 Evidence shows that learning something new can improve our confidence. This is especially important at the moment when many of us are spending more time alone and at home than usual.
We recommend setting yourself a task you will enjoy achieving. Such as:
Take on a new challenge to make or fix something

Rediscover an old hobby that challenges you, whether it's writing stories, cooking, sewing, gardening or playing board games

Try an online course, there are many free ones available
---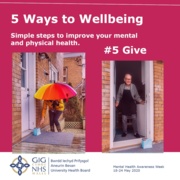 Giving is about helping others with kindness. We get positive benefits from doing something nice for a friend, or a stranger. Evidence shows being kind to others helps lower our own stress and anxiety. A smile and a good morning to a stranger can be good for both of you!
Consider ways you can offer support to others, whether it's collecting shopping, prescriptions or just listening.
Don't forget to be kind to yourself. Thinking about what makes you feel grateful each is central to your own happiness and well-being.
---