Be A Winter Hero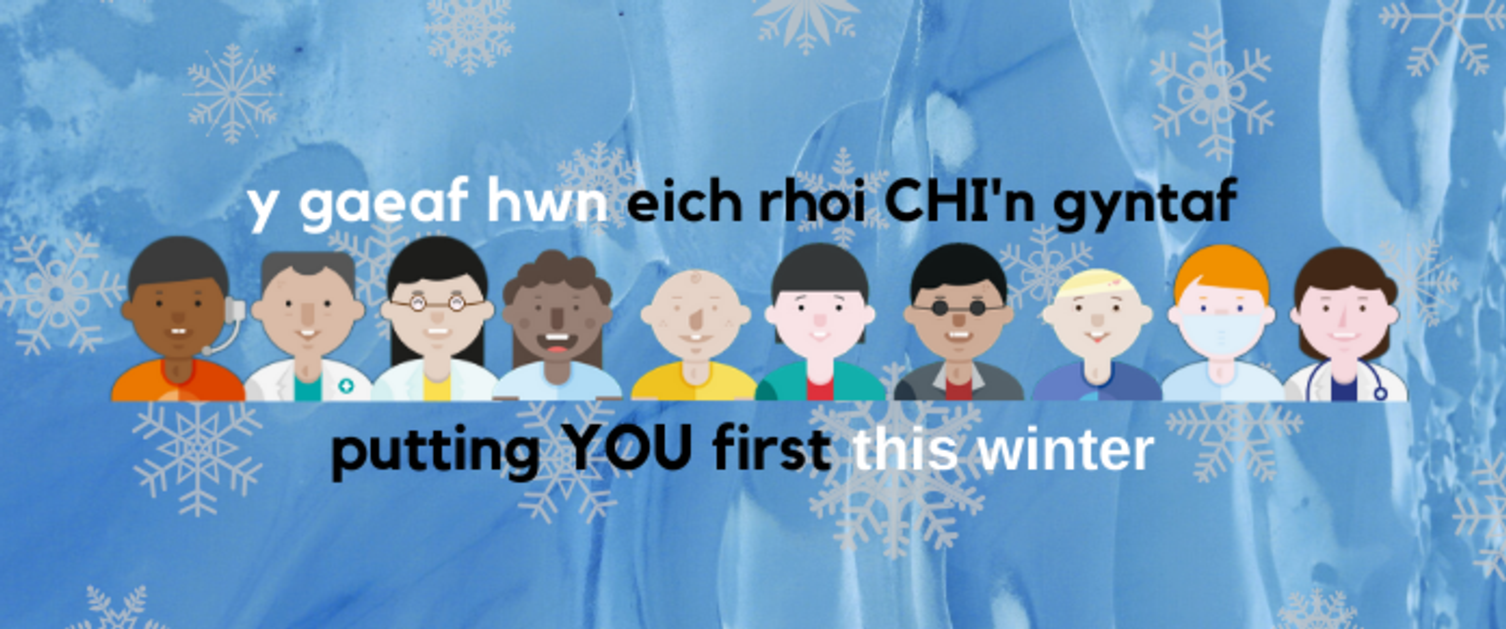 We think our hardworking NHS staff are Superheroes, particularly when things get tough during Winter. Because of this, we have been presenting staff that are nominated as 'Winter Heroes' with Heroes chocolates as a small token of appreciation for their hard work and dedication to 'putting YOU First This Winter'.
Can you remember a time when you've been thankful for a 'Health Hero'? We'd love to hear about them! You can e-mail your nomination, along with a brief description of why they are 'Heroes', to: abhb.enquiries@wales.nhs.uk.
Take a look at some of this year's Winter Heroes from Winter 2019/2020, and see why they were nominated...
These items have also been published on our social media accounts, which you can follow for more information.
#BeAWinterHero
Dental Out of Hours Team

"For making sure that the people of greater Gwent are out of pain and well looked after"- They were busy seeing to lots of patients on the afternoon that we visited them!

David Brunnock, Catering Team, Royal Gwent Hospital

"He is so kind and caring to the patients. He makes an effort to find out patients likes and dislikes and always ensures food and drinks are left for those who aren't able to ask and he always communicates really well with nursing staff regarding patient's needs. This is so important on an older adult ward with high nutrition and hydration needs."

Nursery Nurse Emma, Children's Assessment Unit, Royal Gwent Hospital

"My 5 year old daughter was admitted with a chest infection and was very nervous. When Nurse Emma did her "magic numbers" (obs) she also took numbers for my daughters toy dog. She did blood pressure on the dog and even wrapped its paw up in a bandage. My daughter was thrilled and the care and kindness from Emma was outstanding. A simple gesture which meant an awful lot to a scared five year old."

Psychiatric Liaison Team, Nevill Hall and Royal Gwent Hospitals

"The team work tirelessly to support the A&E department, as well as the rest of the hospital, with patients experiencing mental health issues."

Hyper Acute Stroke Unit- Ward C5 East, Royal Gwent Hospital

"They have had an extremely busy winter and continue to provide excellent care to all of our stroke patients. The staff always give 110% and the care that is given is second to none"

Ward C7 West, Royal Gwent Hospital

"They are a credit to their professions as they work so hard and provide such excellent high level of care to all their patients."

Living Well Living Longer Team

"The team make a difference to so many people's lives daily. They all go the extra a mile for all of the people that they see. I work on the admin team and suffer with fibromyalgia and if it wasn't for the help and support of my wonderful team who are my second family, I wouldn't still be in work. They are not only heroes to all the patients, they are my heroes"

D6 Paediatric Ward, Royal Gwent Hospital

"The hard work of all the team should be rewarded as they work so hard during these busy and difficult times"

Endocrine Secretaries, Royal Gwent Hospital

Specialist Nurse, Emma Hodgson, said: "While I have been off on bereavement leave, they have worked together with Sister and Ward staff to ensure my patients have received their treatments."

Samantha Howells and Richard Warkins, Radiology Department, Nevill Hall Hospital

Nominated by their colleagues, the team said; "We want them to know how grateful our whole team is and we cannot thank them enough for their hard work and dedication over these last few months. We could not ask for better leaders, colleagues, friends or 'mum and dad' to captain our department."

Sirhowy Ward, Ysbyty Aneurin Bevan

The team were nominated for: "going over and above and supporting patients with complex needs during challenging times."

Emergency Department, Nevill Hall Hospital

"I would like to nominate all the staff in ED that looked after me on Christmas Eve, and into Christmas Day. They kept me calm, treated me with care and empathy, and I was triaged, assessed and admitted within 3 hours. I can't thank the department enough for giving up their Christmas to look after me and the many seriously ill patients that come through their doors every day."

Dorota Bowen and the Inpatient Diabetes Specialist Team, Nevill Hall Hospital

"Dorota has decorated the hospital in her own time to promote diabetes awareness and insulin safety. And the team work hard visiting all patients with Diabetes in the hospital to maintain high standard of care."

Fetal Medicine Team, Nevill Hall Hospital

"Through such a difficult pregnancy, I received such personal care and support, without them I don't think I'd have coped. Never too busy to talk, give advice and even a hug or a coffee when needed. They were so supportive, I miss seeing them, I thank them all for helping me deliver a precious, health baby boy. "

Blaenau Gwent East and West District Nursing Team

"The team provide excellent care serving the community and work tirelessly with an unswerving willingness to go the 'extra mile' and put the needs of the service and patients first."

Penallta Ward, Ysbyty Ystrad Fawr

"They looked after my mam and they gave her her wish and got her home to die...which sadly she has now. But the care she received was priceless and to me her daughter, there was nothing too much trouble."

Dentist Lisa Plant, and Dental Nurse, Heidi Allsop

"Lisa is such a fantastic dentist, wonderful with my children. She's so patient and takes the time to explain everything to them."
Lisa said; "we are definitely a team and I couldn't do my job without Heidi."

Tracey Cullen, Ysbyty Aneurin Bevan

"Tracey goes above and beyond her job role to help with the day to day running of Ysbyty Aneurin Bevan. She doesn't complain about anything and is always happy and willing to help everyone. Without Tracey the hospital wouldn't run as efficiently as it does."

Ward 4/1, Nevill Hall Hospital

"Every member of staff on this ward continuously work so hard"

Ebbw Ward, Ysbyty Aneurin Bevan

"The nursing staff have provided excellent discharge rates and supported patients with complex needs during challenging times."

The Older Adult Psychiatric Liaison Team (OAPL), Nevill Hall Hospital

"They work tirelessly to ensure that distress is minimised to patients during their time in hospitals. They organise events and parties as well as spending 1:1 time with them"

The Emergency Care at Home Team (Torfaen), County Hospital

"The team have had a very busy winter trying to keep as many patients as possible in their own homes with extremely compassionate and adaptable care. Last year, the team successfully piloted a new initiative to help ease winter pressures, which has now been rolled out throughout all other Health Board boroughs."

Ward 4/3, Nevill Hall Hospital

"My grandfather passed away in January, he was only with them for 48hrs however it was enough time for me to witness the hard working compassionate and lovely mannered staff."

Radiology Staff at CT/MRI, Nevill Hall Hospital

"They have worked tirelessly over the winter season responding to emergency scans in addition to the usual high workload of urgent scans."

Rhymney District Nursing Team

The team were nominated as Winter Heroes because "They are heroes all year round but especially during the winter with extra pressures and extreme weather, they go the extra mile to ensure our housebound patients receive the care they need"

Ward C4 East, Royal Gwent Hospital

"My mother has recently had a short stay on the ward and I cannot thank the staff for the care they have shown her. My mother said it was like a family. The ward was also spotless. Thank you again."

Medical Practice, St James House, Usk

"They have helped me so much over the past year"

Dr Kate Wright, A & E Consultant, Nevill Hall Hospital

After saving a man's life after he suffered a potentially fatal cardiac arrest, his family said "I will forever be grateful for this amazing woman and what she did for him. She not only saved his life, but she stopped every one of our hearts from breaking."

Vascular Ward, D7East, Royal Gwent Hospital

"You are always greeted with a smile and someone is always willing to help with whatever you may need."

Tyleri Ward, Ysbyty Aneurin Bevan

"The Team have gone over and above in ensuring a safe environment for the patients and have maintained excellent discharge rates throughout the winter season."

Ward 2/4, Nevill Hall Hospital

"When I had viral meningitis last year I was transferred there and all the staff were lovely, kind and helpful, also when my mother in law had a hysterectomy the care and compassion shown was fantastic! "

Microbiology Department, The Royal Gwent Hospital

They process and interpret samples to ensure patients are on the right antibiotic treatment, and provide rapid testing for MRSA and flu to maintain patient flow and patient management.

Usk District Nursing Team

"They are a marvellous bunch and are an absolute credit to the Health Board. We value them so much."

Carn-Y-Cefn Ward, Ysbyty Aneurin Bevan

"The team always pull together to ensure patient safety and wellbeing remain priority. Carn Y Cefn ward has a fantastic team that deserve recognition."

Ward C5 West, The Royal Gwent Hospital

"The Ward has had a really busy few weeks and all the staff work so hard, I think it is well deserved."

The Newport Community Resource Rapid Medical / Nursing Team

"The continued hard work and care from the team benefits our patients and also impacts on other services by supporting discharges and preventing admission to the front end."

The Resource Bank, Llanfrechfa

The Resource Bank take all the bookings for shifts across the Health Board- "Without this team the hospitals would be without a lot of staff."

The Critical Care Outreach/Resuscitation Team

"The Team work hard daily to prevent admissions to Critical Care, especially in these winter months, by working with Multi-disciplinary teams to develop plans that always puts the patients' best interests first, and continuously support staff to provide the best decisions and care for that patient."

Speech and Language Therapy Team, Clytha Clinic

"The team have had a difficult year, and still managed to maintain the highest quality of support provided to our families with amazing outcomes!"

Brynmawr Medical Centre

After having to close the Medical Centre briefly due to structural damage, the team have been nominated as Winter Heroes "For continuing to provide excellent care in such challenging circumstances".

The Vascular Lab, Ysbyty Ystrad Fawr

"They are Winter Heroes for the care and support they show towards patients"

Occupational Health Team, Nevill Hall Hospital

When nominated the team were described as being a "huge help to me over the past year".

Learning Disabilities Team, Mitchell Close, Llanfrechfa

"The team at Mitchell Close are a specialist learning disability service. This can be a very challenging environment, however, the team remain positive and proactive and always have the service users' best interests at heart."

Pathology Department, Nevill Hall Hospital

Although very much a team that works 'Behind The Scenes', it would be completely impossible to treat our patients without them!

Lung Cancer Specialist Nurses- Sam Williams, Helen Howison and Rebecca Weston-Thomas

"They care for very unwell cancer patients on a daily basis. They always go that extra mile to help and sometimes have to break bad news, which can be quite upsetting to them and the patient. It is part of their job. I think they need a bit love too for what they do."

Ward 4/2, Nevill Hall Hospital

"The staff are committed and always deliver care to patients with a smile on their faces."

Rheumatology Day Unit, Nevill Hall Hospital

A patient: "The work those guys do for me and others is amazing. I for one am very grateful for all they do for me every month."

Community Nursery Nurse, Jo Miles

Jo hosts a 'Weaning Party'
"Jo was professional, knowledgeable and informative. The setting and pace of the session was perfect and I learnt loads."

Bargoed Ward (The Stroke Rehab Unit), Ysbyty Ystrad Fawr

"They continue to work hard every day despite heavy demand - they are my winter heroes. Go team Bargoed."

The Medical Assessment Unit, Ysbyty Ystrad Fawr

"They are absolutely extraordinary, working under very challenging circumstances."

District Nursing Teams Torfaen South 1 and South 2

Out in all weathers, never moaning when soaking wet or when the roads are particularly busy at this time of the year, these teams don't just go the extra mile but run a marathon! Working under extreme pressure, the teams rally round to ensure the needs of the service are met. They've received countless positive comments and compliments from their patients about the superb care given to them.

Facilities Team, St Cadoc's Hospital

"They are always helpful and on hand to help when needed. Nothing is too much trouble."

Tŷ Cyfannol Ward, Ysbyty Ystrad Fawr

"The staff work really hard, treating patients with mental health issues. They go above and beyond to ensure a real duty of care is given."

The Stoma Team, The Royal Gwent Hospital

"The Stoma nurses were so kind and patient with me. At a time in my life when I was so confused I would never have got through the trauma without this team of magical people."

Joshua Sims, Car Park Security Staff, The Royal Gwent Hospital

Nominated for always being a smiley face in the Hospital's car parks, Joshua said:

"I always try and stay happy, it can be horrible being out in the wet and cold but I'm just here to help people."

The Quality and Improvement Team, St Cadoc's Hospital

Although comprised of many divisions, this team share the aim of improving patient experience through different means.

"They work very much 'behind the scenes' but without them, we'd be in quite a pickle!"

Sister Paula Jacobson, Team Manager of Rhymney District Nurses

"This year Paula celebrated 30 years of district nursing. She is the most supportive manager, putting her staff and patients before herself at all times. She really is one in a million and so highly respected and thought of."

Breast Care Team, Nevill Hall Hospital

"I would like to nominate the amazing Breast Care Team at Nevill Hall. I am very grateful for their amazing care since my diagnosis back in February."

C4 West, The Royal Gwent Hospital

They have been nominated and praised for providing excellent care and going above and beyond; not only to patients, but to their relatives and loved ones as well.

GP Call Handlers, The Royal Gwent Hospital

"The level of professionalism they keep, especially in the winter months, deserves to be recognised."

The YYF Community Nurses based at Gelligaer GP Surgery


"No matter how busy they are they still work together to deliver exceptional care. Supporting their colleagues and always sharing the workload."

Pharmacy Procurement and Distribution Team, Nevill Hall Hospital

Over the winter period, the team help in the delivery of the

#BeatFlu

campaign by overseeing the receipt of flu vaccines into the organisation and distributing them across the hospital.

Cardiology Team, The Royal Gwent Hospital

"The whole department continuously provide outstanding care to both outpatient and inpatients on a daily basis."

Porters, Chepstow Community Hospital

Porters are integral to the smooth running of our patients' care.

They work exremely hard to ensure patients are in the right place at the right time, so that they can receive the best possible care.

Ward 3/3, Nevill Hall Hospital

"I've stayed on a few different wards but there's something special about the team on 3/3- they are all amazing."

The Intensive Care Unit, Nevill Hall Hospital

"All Hospital staff that I came into contact with throughout my admission were amazing, but staff on the ITU saved my life

and continue to provide reviews and support after my discharge... myself and my family will be forever grateful."

The Endoscopy Unit, The Royal Gwent Hospital

Unit Manager, Angela, was recently commended in an official report for her work. Her and her team are described as going above and beyond to ensure the Unit runs efficiently for patients, so that their experience is as comfortable as possible.


"They are a credit to the Gastroenterology and Endoscopy Directorate"

Emergency Department Reception Team, Royal Gwent Hospital

"They're the first set of eyes and ears of the A&E team, alerting clinical staff to the sometimes self-presenting very sick patients they often see."

Person-Centred Care Team, County Hospital

"This team have put unfailing drive into increasing volunteering for befriending service Ffrind i mi. This is having significant positive impacts for our patients and volunteers too."

Reception Team, Chepstow Community Hospital

They are the first faces you'll meet as you enter the Hospital.
They are always here to provide a warm welcome, and to offer help and assistance to patients and visitors.

Multiple Sclerosis Team, The Royal Gwent Hospital

The MS Nurses provide Infusions, blood monitoring and offer advice and support to patients.

Nicola Hales, Bereavement Support Officer, Ysbyty Ystrad Fawr

Nicola supports friends and family after the death of a loved one in the hospital. She is the single point of contact for family members; answering any questions and signposting them to other organisations.

Neuro-Rehab Team, Park Road Well-Being Centre

"The team help patients after strokes and brain injuries to live their best lives."