Newsletters and Updates
Newsletters will provide information about what is happening in each locality within Integrated Wellbeing Networks.
There will also be updates on events that have taken place during the quarter and announcements on future events.
Blaenau Gwent
Caerphilly
Monmouthshire
Newport
Torfaen
Wellbeing Friends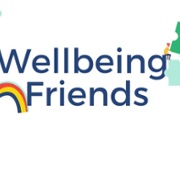 Being a Torfaen Wellbeing Friend means sharing local information on wellbeing to help people know what's available. This could be part of your normal day as you share a post you find useful on social media or it could be sharing in person with friends or family who don't use social media.

Letting other people know about local activities that you are aware of or how to access support groups, services and information which could help their wellbeing, helps everyone live happier, healthier lives.
We will provide a monthly newsletter and coffee mornings as well as some additional training if you want it, find out how below.
You can sign up to be a Torfaen Wellbeing Friend by joining our Torfaen Wellbeing Friends on Facebook and / or receive regular emails from us by joining our mailing list. To sign up please e-mail Torfaen.WellbeingFriends.ABB@wales.nhs.uk
If you live in Blaenavon or Croesyceiliog and Llanyrafon we have specific groups for your area, you can find them at Blaenavon Wellbeing Friends | Facebook or Croesyceiliog and Llanyrafon Wellbeing Friends | Facebook
Launch of Integrated Well-being Networks Transformation Programme
A launch event for the Integrated Well-being Networks Transformation Programme was held on 30th April 2019 at the Parkway Hotel, Cwmbran. The objectives of the Integrated Well-being Networks Programme and the new team were introduced to wider partners in each locality. The event was attended by over a 100 people.
The event offered a great opportunity for sharing plans to implement Integrated Well-being Networks and ideas of how we can collaborate and work in partnership to embed Integrated Well-being Networks across Gwent. The day gave us and our partners an opportunity to welcome the new members of the team who will be responsible for progressing the implementation of the Integrated Well-being Networks within their respective localities.

Read the following presentations delivered on the day: