'Work With Us' Roadshows
We're embarking on a tour around the Health Board area to recruit new members of staff and to ensure local residents know where they should go when they need health care...
---
When The Grange University Hospital in Cwmbran opened in November 2020, the function of other hospitals in the Aneurin Bevan University Health Board area changed. The new hospital delivers specialist and critical care to the Health Board area and houses the region's Emergency Department.
The centralisation of highly specialist staff and equipment in one hospital means the highest levels of care and support can be offered to the sickest patients. As we expand our health care sites to meet the needs of our growing population, we also need to expand our workforce to meet the additional pressures of winter and Covid-19.
Ahead of the busy Winter period, we're embarking on a roadshow to find new recruits to join our team of employees and to help you make the right choices when you need care.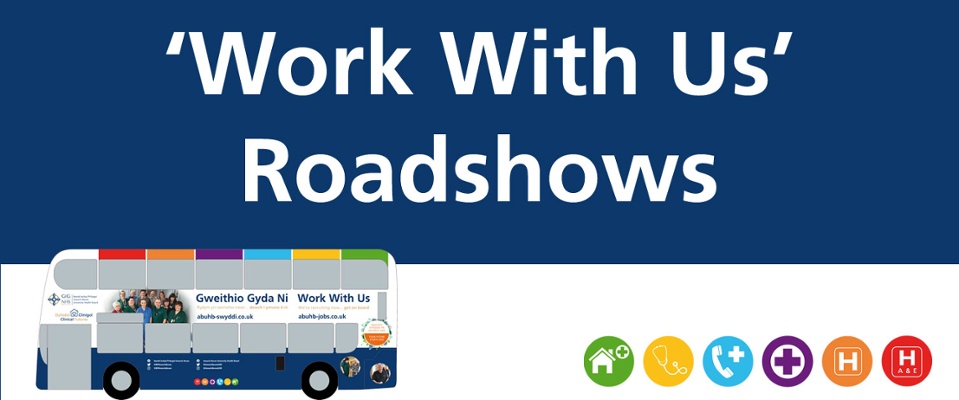 We're Recruiting-

start your future now!

Are you interested in a career in health care?

We have a host of new employment opportunities available in health care, social care and facilities management across the Health Board, so start your future now by getting on board with our Roadshow.

You can also find more information about current vacancies on our Jobs page.

Understand the changes to your health services!

Would you know where to go if you were unwell or injured and needed medical attention?

The way you access urgent and emergency care has changed now that The Grange University Hospital has opened.
Keep an eye out for our Roadshow Bus and get on board with us!
Here's our timetable...
Date

Time

Area

Location

Find Us..

Friday 26th November 2021

10.30-14.00

Abertillery

Tesco Abertillery

On our Roadshow Bus

Saturday 27th November 2021
14.00 - 17.30
Pontypool
Pontypool Cavalcade
Inside Pontypool Market

Thursday 2nd December 2021

11.00-14.00

Ebbw Vale

Coleg Gwent Ebbw Vale Campus
On our Roadshow Bus
Friday 3rd December 2021
10.30 - 15.30
Monmouthshire
Goytre Wharf
In our gazebo
14.00 - 17.00
Ebbw Vale
All Saints Church
Inside venue

Saturday 4th December 2021

09.00-17.00
Caerphilly
Caerphilly Winter Market
In our gazebo
10.00 - 16.00
Cwmbran
Cwmbran Shopping Centre (outside Argos)
In our gazebo

Sunday 5th December 2021

12.00-15.00

Abergavenny
Waitrose Abergavenny
On our Roadshow Bus
Thursday 9th December 2021
15.00 - 20.00
Abergavenny
Christmas Craft Market, Abergavenny Garden Centre
Inside the Market

Friday 10th December 2021

10.00-13.30

Cwmbran

Morrisons Cwmbran

On our Roadshow Bus

10.00 - 16.00
Bargoed
Bargoed Morrisons
In our gazebo

Saturday 11th December 2021

09.00-14.00

Newport

Tredegar House and Park

In our gazebo

09.00-17.00

Blackwood

Blackwood Winter Market

On our Roadshow Bus

Sunday 12th December 2021
10.00 - 15.00
Chepstow
Chepstow Tesco
On our Roadshow Bus
Thursday 16th December 2021
10.00 - 15.00
Monmouthshire
Monmouth Waitrose
In our gazebo
Saturday 18th December 2021
12.00 - 17.00
Blaenau Gwent
Parc Bryn Bach Christmas Family Event
Awaiting confirmation
09.00-15.00
Caldicot
Caldicot Christmas Market
In our gazebo
Sunday 19th December 2021
09.00 - 14.00
Ystrad Mynach
Ystrad Mynach Tesco
On our Roadshow Bus
Tuesday 21st December 2021
09.00-15.00
Abergavenny
Abergavenny Market
In our gazebo
Thursday 23rd December 2021
12.00-16.00
Newport
Newport Spytty Retail Park (outside Outfit)
In our gazebo