Make a patient happy with help from your Pet Dog!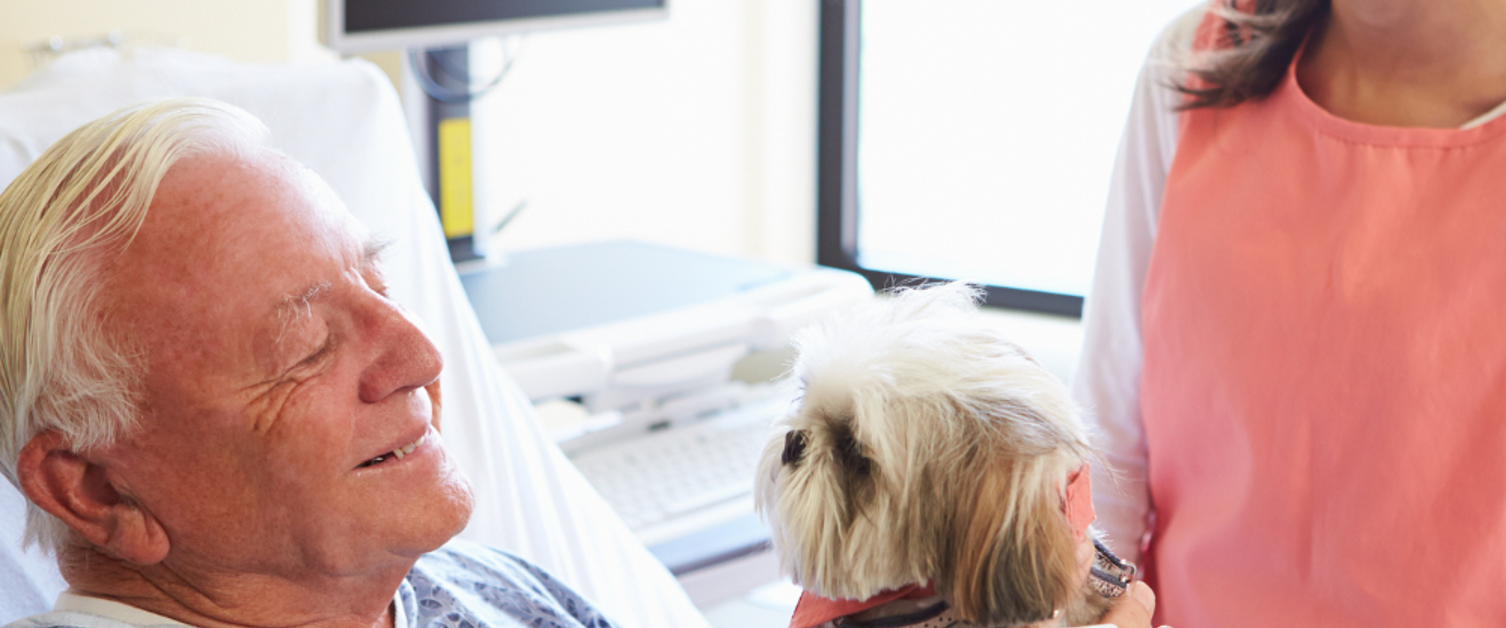 We need motivated and committed volunteers to carry out therapeutic visits to hospital patients with their friendly dogs.
This is a challenging and rewarding role which brings great enjoyment and comfort to patients.
We work with our partner organisations 'Therapy Dogs Nationwide' and 'Pets As Therapy' to ensure that our visiting dogs are of the right temperament to benefit patients.
Will I and my dog be suitable for the role?
You will need the following:
To be motivated, reliable and committed

To enjoy visiting frail and/or unwell patients

To have owned your dog for at least 6 months

To become a member of Therapy Dogs Nationwide or Pets As Therapy (annual fee of £12 or £19)
Your dog:
Can be any breed or size

Must be at least 9 months of age

Must be friendly and enjoy being stroked and petted by strangers

Must be healthy and fully vaccinated
Becoming a Therapy Dog Volunteering Team
Patience is needed as the recruitment process is robust and is likely to take several months.
There are two parts to the process:
1. Membership of Therapy Dogs Nationwide or Pets As Therapy
You will need to register with either Therapy Dogs Nationwide or Pets As Therapy who will carry out reference checks for yourself and a temperament and behaviour check for your dog. This can take a few months to complete.
Please contact either Therapy Dogs Nationwide or Pets As Therapy using the contact details below:
Website: Home - THERAPY DOGS NATIONWIDE (tdn.org.uk)
Email: enquiries@tdn.org.uk
Website: petsastherapy.org
Tel: 01865 671440
Email: reception@petsastherapy.org
2. Recruitment of yourself as a Volunteer with the Health Board
A number of forms will need to be completed, as well as DBS, reference checks, Occupational Health checks plus attendance of a 3-hour volunteer training session and 30-minute Dementia Friends session.
3. Beginning the Placement
When you receive your Therapy Dogs Nationwide or Pets As Therapy membership number and your recruitment checks have been completed, a placement will be agreed upon. We have a wide range of placements available at our hospitals throughout Newport, Blaenau Gwent, Caerphilly, Torfaen and Monmouthshire. To ensure that you and your dog are happy with the placement, you will be accompanied on your introductory visit and ongoing support and guidance will be available.
For further information please get in touch with Rhian Lewis,
Service Improvement Manager: Rhian.lewis2@wales.nhs.uk 07812 672858