Mass Vaccination Sites in Gwent to offer walk-in clinics for Children's Nasal Flu, General Flu, and Covid-19 Autumn Booster vaccinations as services see huge surges in cases across region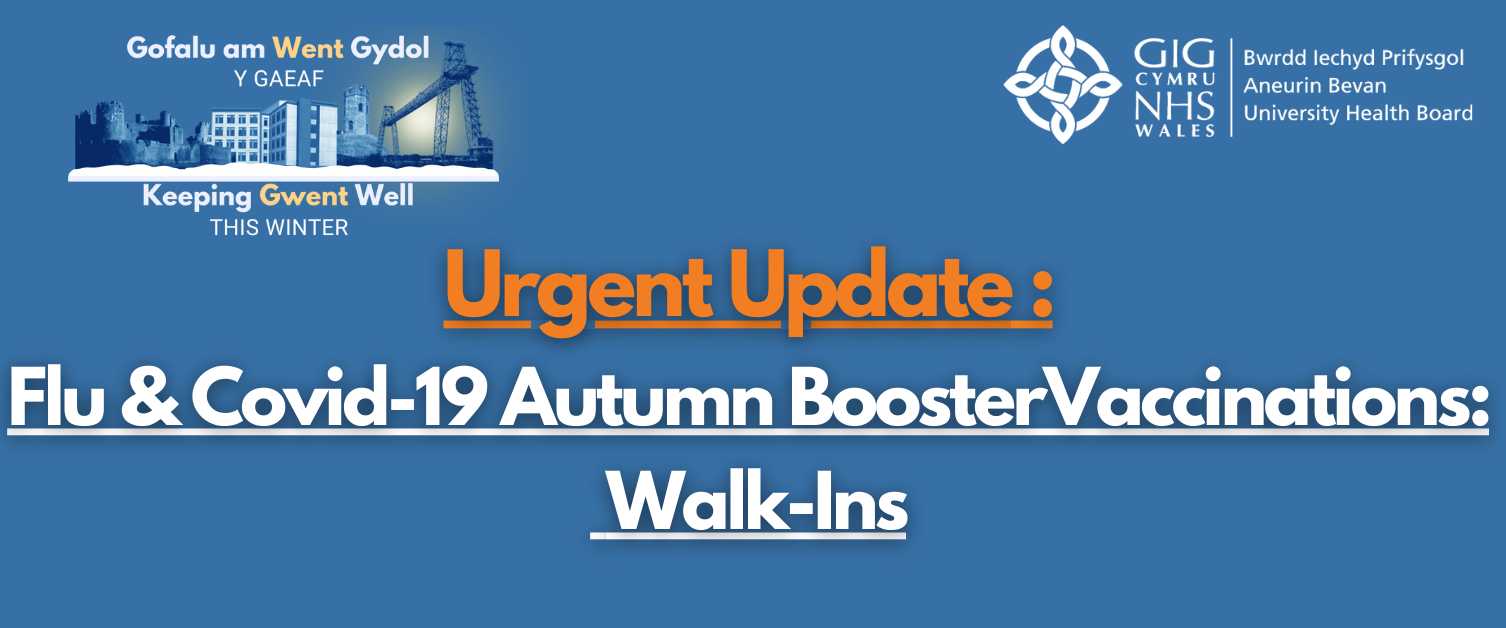 Flu and Covid-19 are circulating around Gwent especially in children and at levels never seen before- this is the first time we are being faced with both large outbreaks in both Covid-19 and Flu.
It's so important to get vaccinated and protect yourself and loved ones- our services are seeing people who are really unwell with Flu and Covid-19 and getting vaccinated is your best defence in fighting the illnesses.
Building on the success of the walk-in clinics at our Mass Vaccination Sites across the region prior to Christmas, we are now opening the doors of all our Mass Vaccination sites for walk-in Flu and Covid-19 Autumn Booster vaccinations from today, Wednesday 4th January 2023 from 10am-4:30pm. Children between the ages of 2-17 can now walk in to our Mass Vaccination sites and receive their vaccination which is a nasal spray, not an injection.
The walk-in offer for both vaccinations will be available during the Mass Vaccination Centre usual opening days and times of Tuesday-Saturday 10am-4:30pm.
For a list of our Mass Vaccination Sites, please follow this link: Getting Vaccinated - Aneurin Bevan University Health Board (nhs.wales)
Are you eligible for a Flu or Covid-19 Autumn Booster vaccination? Check below:
Flu
ALL children between the ages of 2-17 are eligible for the flu nasal vaccination.
For the injectable vaccination for 18 and above, check your eligibility here: Eligibility for the vaccine - Public Health Wales (nhs.wales)
Covid-19 Autumn Booster
To be eligible for a COVID-19 Autumn Booster, you must be:
Aged 50 or over, or

Aged 12 – 49 and in a clinically at risk group
You must also meet the following criteria:
You haven't received a COVID-19 vaccine since 1st September 2022

You haven't had a positive COVID-19 result (this includes PCR and lateral flow) in the past 28 days