Ysbyty Ystrad Fawr Celebrates a Decade of Excellent Care for Local Communities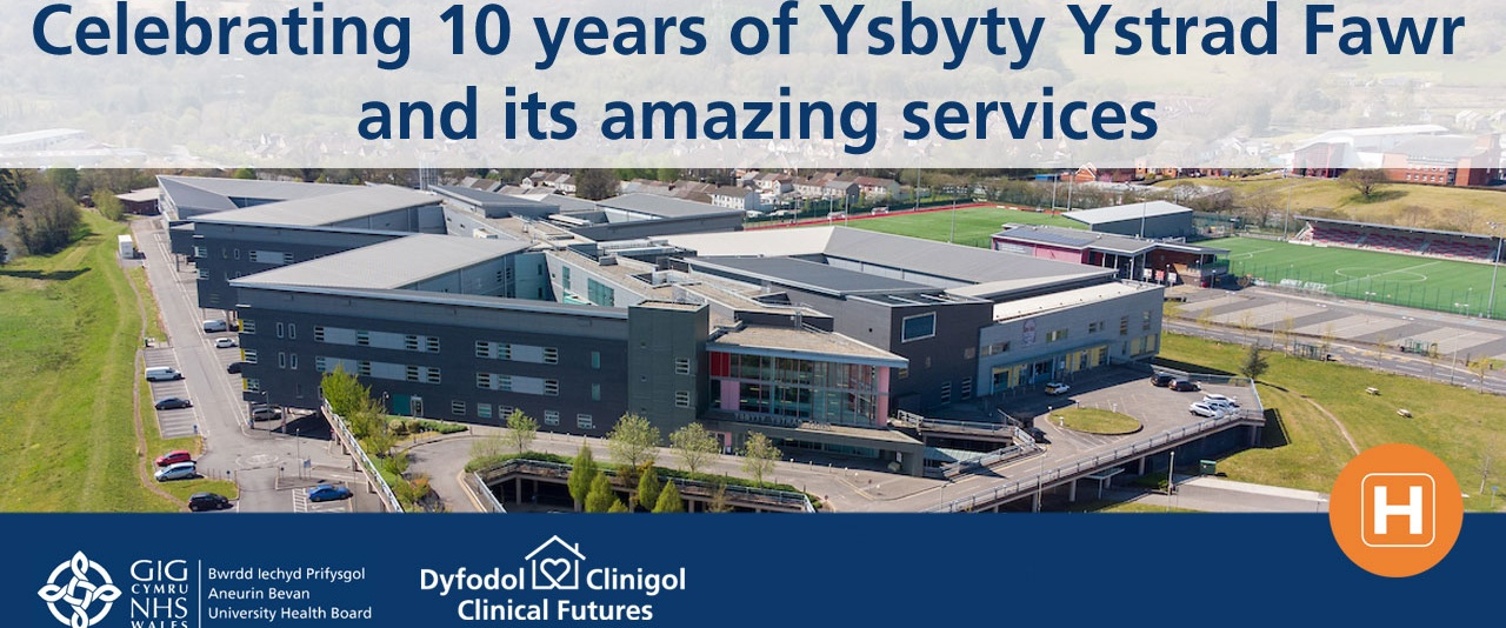 Tuesday 9th November 2021
We're celebrating the TENTH anniversary of the opening of Ysbyty Ystrad Fawr this week, as the hospital marks a decade of providing first-class care to local people.
The Enhanced Local General Hospital, in Ystrad Mynach, opened its doors to patients in November 2011 and has been providing a range of healthcare services to Aneurin Bevan University Health Board patients ever since.
With a Freestanding Midwifery-led Birthing Unit and a 24/7 Emergency Nurse Practitioner-led Minor Injuries Unit to treat local residents' injuries closer to home, Ysbyty Ystrad Fawr was the very first Hospital of its kind for our Health Board. Named an Enhanced Local General Hospital, Ysbyty Ystrad Fawr signified the very beginning of our Health Board's Clinical Futures model to bring care closer to home.
As well as being able to offer state-of-the-art birthing facilities and treat injuries outside of the traditional Emergency Department setting, Ysbyty Ystrad Fawr has been at the heart of the local community since its opening.
With 164 inpatient beds, the hospital also offers a host of services, including; outpatient appointments for a range of specialties; diagnostic services such as X-rays, MRI and CT Scans; Rehabilitation and Therapy services; a Medical Assessment Unit and an Emergency Frailty Unit.
Subsequent to the success of Ysbyty Ystrad Fawr, Nevill Hall and the Royal Gwent Hospitals were repurposed into fellow Enhanced Local General Hospitals following the opening of The Grange University Hospital and the centralisation of the Health Board area's specialist and critical care services in November 2020.
Ysbyty Ystrad Fawr is now set to become a Centre of Excellence of its own when its brand new Specialist Breast Centre opens in late 2022. The new Breast Centre will offer localised specialist breast diagnostic and treatment facilities to patients in the Aneurin Bevan University Health Board area.
Dr Inder Singh, Clinical Director for Ysbyty Ystrad Fawr, said:
"I'd like to thank all of our colleagues and teams who have helped us reach where we are today. Ysbyty Ystrad Fawr was a revolutionary Hospital for us that paved the way for our new model of healthcare, so we are very proud of it and all it has achieved over the past decade. We have continuously improved our services here at Ysbyty Ystrad Fawr and have continued to deliver high quality care for our communities. We look forward to seeing it thrive further in the coming years with the development of our new specialist Breast Centre."
Some of the staff who make the hospital what it is tell us more about the fantastic, specialist facilities available at Ysbyty Ystrad Fawr in this video..
Find more information about Ysbyty Ystrad Fawr.
Find more information about the Health Board's Clinical Futures Programme.