5k Your Way, Move Against Cancer Parkrun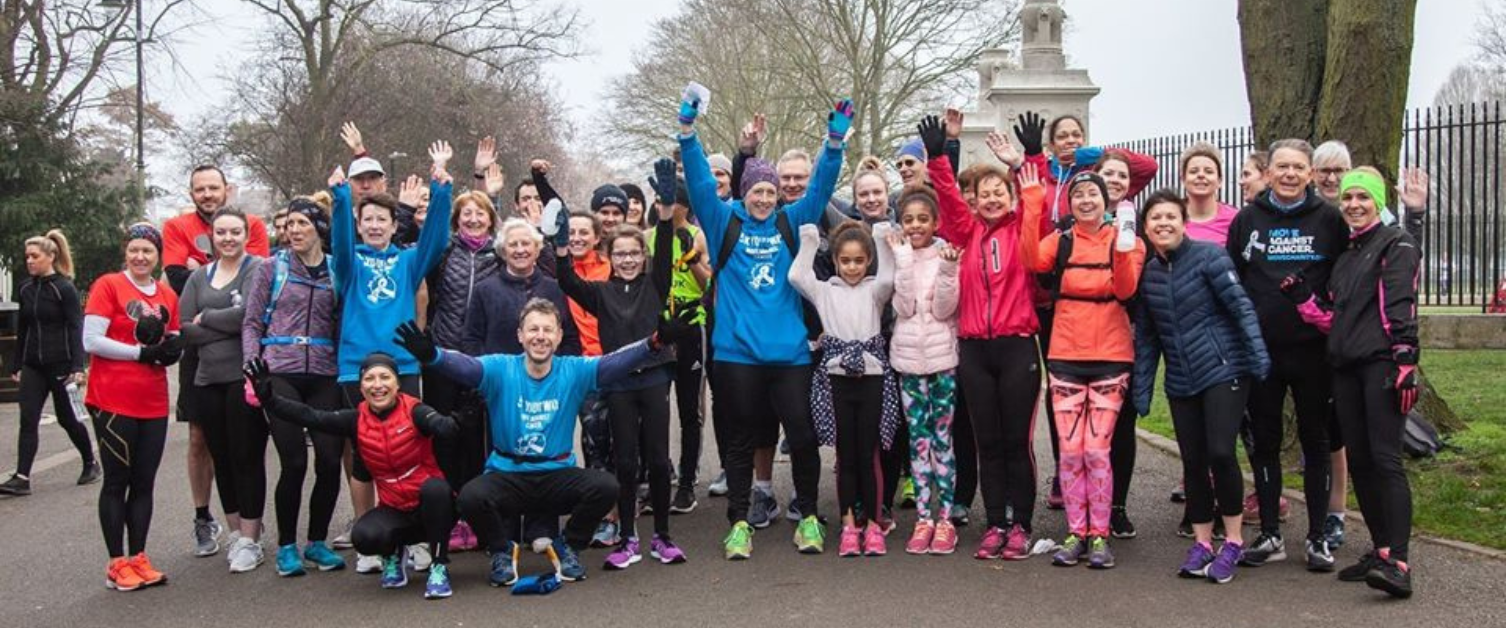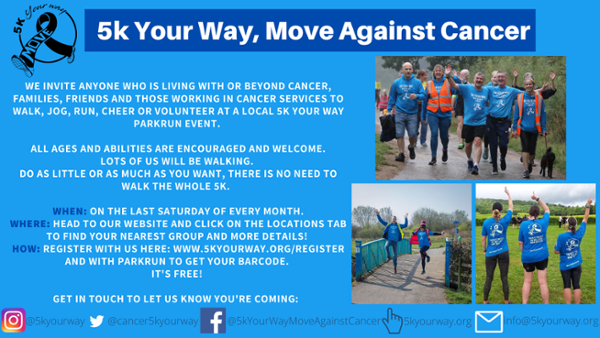 People living with and beyond cancer in Aneurin Bevan University Health Board are being encouraged to move more as part of an initiative called 5k Your Way, Move Against Cancer (www.5kyourway.org). This initiative is delivered by MOVE Charity.
The Cwmbran and Newport – Tredegar House 5k Your Way, Move Against Cancer groups invite those living with and beyond cancer, their families, friends and those working in cancer services to walk, jog, run, cheer or volunteer at the Cwmbran and Newport – Tredegar House parkrun on the last Saturday of every month and then socialise in the local café. In short, we are an active coffee morning combining fresh air, movement and socialising.
Physical activity has been shown to have a number of important benefits for people living with cancer. It reduces cancer related fatigue, helps to preserve cardiorespiratory and muscular fitness and improves psychological well-being. It may also reduce treatment side effects, reduce the risk of cancer recurrence and prolong survival. However, despite these benefits, a NHS report found that only 23% of people living with cancer achieve the recommended 30 minutes of moderate activity 5 times per week. The 5k Your Way, Move Against Cancer initiative linked to parkrun, provides the opportunity to do this.
The Cwmbran Parkrun 5k Your Way, Move Against Cancer group is run by volunteer ambassadors:
Sian Lewis – Macmillan AHP Cancer Lead
Dr Jane Mathlin – Consultant Radiographer, Velindre Cancer Centre
Tor Collins – Specialist Breast Physiotherapist, Cardiff & Vale University Health Board
Andrew & Catherine Spencer
This will start Saturday 25th February and will meet in front of the brown brick building by the side of the Olive Tree at Northfields Recreation Ground, Cwmbran, NP44 2JJ.
"We were thrilled to learn of 5K Your Way, Move Against Cancer," says Sian Lewis. "It's a national initiative which combines a cancer support group with parkrun''.
Further details of the Newport – Tredegar House Parkrun 5K Your Way will follow shortly as it is currently still in the planning stage. The aim is to start to Saturday 25th March 2023.
5k Your Way was founded by oncology consultant and 12 times ironman champion Lucy Gossage and Gemma Hillier-Moses, International Runner and Founder of MOVE charity who was diagnosed with cancer herself at the age of 24 in 2012.
There are currently 5K Your Way groups at locations across the UK and in the Republic of Ireland. New members are welcomed whether walking, jogging, running or just coming for a coffee and a chat. Friendships are cementing, and a supportive community is being built. And the snowball has begun to roll, as people see the value in creating a 5k Your Way, Move Against Cancer group in their local community. A strong collaboration with parkrun and support from the wonderful community of parkrun volunteers is facilitating this growth.
Those interested in joining the group are encouraged to register with 5k Your Way and parkrun before meeting at 08:45 on the last Saturday of every month. For further information visit their website.