"Don't contact us, we'll contact you" says Health Board on Booster Vaccinations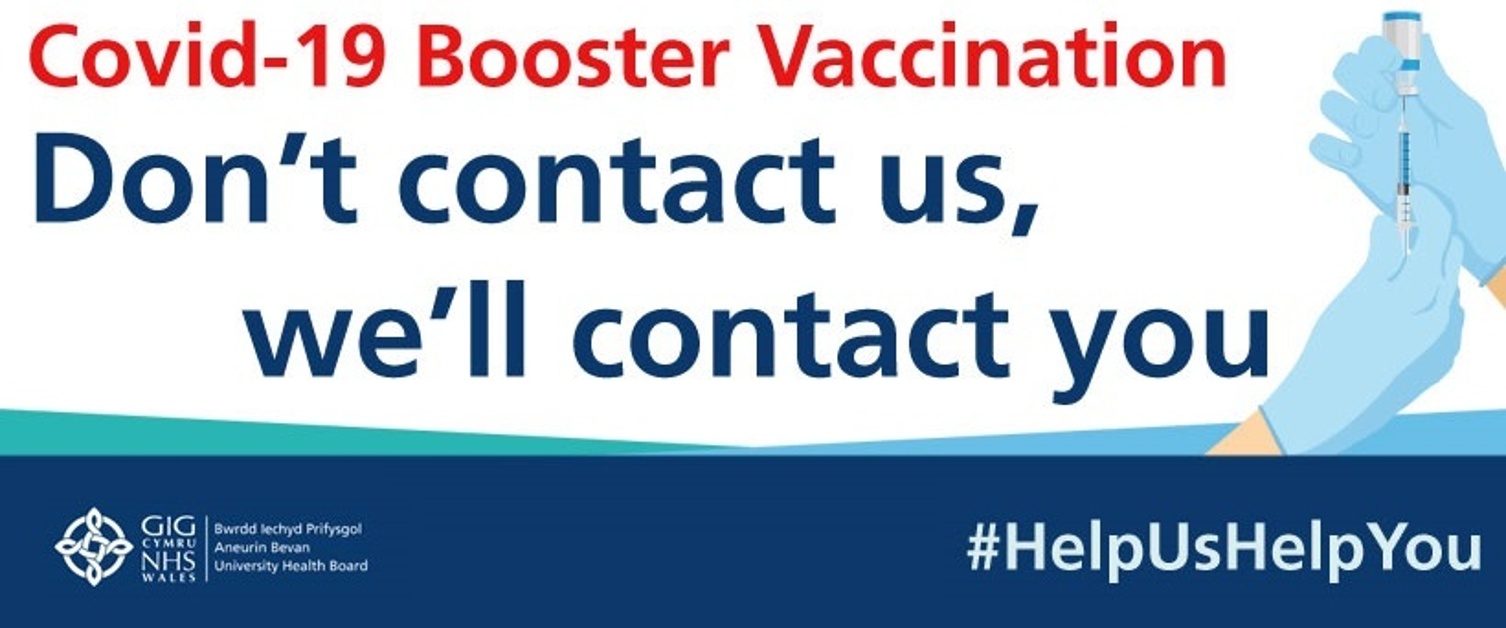 Wednesday 15th December 2021
Aneurin Bevan University Health Board has made a plea to local residents, asking them to wait to receive their booster vaccination and NOT to contact the Health Board for details of their appointment.
Since the latest Welsh Government announcement on Monday evening, which declared that every eligible person will receive an offer of an appointment for their Covid-19 booster vaccination by the end of 2021, Aneurin Bevan University Health Board has seen an unprecedented amount of queries from local residents. With approximately 50% of the calls received by the vaccination booking centre being those of residents enquiring as to when they will receive their appointment, the Health Board is now asking that its local residents do not contact them, and instead wait to be issued with an appointment.
As the Health Board works rapidly to deliver thousands upon thousands of vaccinations by the New Year in line with its new targets, staff are being inundated with the significant amount of phone calls they are receiving from residents calling to enquire about details of their appointment.
While the Health Board appreciates the anxiety and worry that residents must be feeling after the emergence of the new Omicron Covid-19 variant, the vaccination team are doing everything they can to vaccinate as quickly and safely as possible.
Having already accelerated the Booster programme by extending the opening hours and capacity of vaccination centres, as well as enlisting the help of redeployed staff and volunteers, the Health Board administered over 30,000 vaccinations in the last week alone.
With such a large number of vaccinations to deliver, the Health Board is asking all residents to do everything they possibly can to attend the first appointment offered to them. The Health Board is also asking any residents who have already been issued with an appointment to keep it and attend on time.
Residents will be issued with appointments via letter, by phone, or by text, with phone calls coming from a number beginning in 0330. Anyone unable to attend the first appointment allocated to them is now advised that a second appointment will be made for them in early January.
Dr Sarah Aitken, Executive Director of Public Health and Strategic Partnerships at Aneurin Bevan University Health Board, said:
"We're really pleased to have the opportunity to offer the booster vaccination to so many residents, and we're very grateful to those who have accepted the first appointment and have attended on time. Unfortunately, due to the incredibly high number of residents now requiring vaccinations by January, answering phone calls and queries from those asking when they will receive their appointment is putting further strain on an already busy service.
"Whilst we will do everything we can to help, each query takes time to deal with; time that could be better spent issuing vaccinations. Please be flexible, accept your first appointment, expect to receive an appointment at short notice, and answer our calls from an 0330 number. If you cannot attend the appointment allocated to you, please be aware that we will not be able to issue you with a replacement appointment until the New Year due to the very high volume of people that we are vaccinating.
"Contacting us will not accelerate your appointment and will slow down our process for offering appointments- so please don't contact us to ask when you will receive your appointment. Please be patient and trust that we will be in touch with you once we have allocated you an appointment."
For more information on our Covid-19 vaccination programme, visit our dedicated vaccination page.