Gradual Return of the Therapy Dog Volunteering Service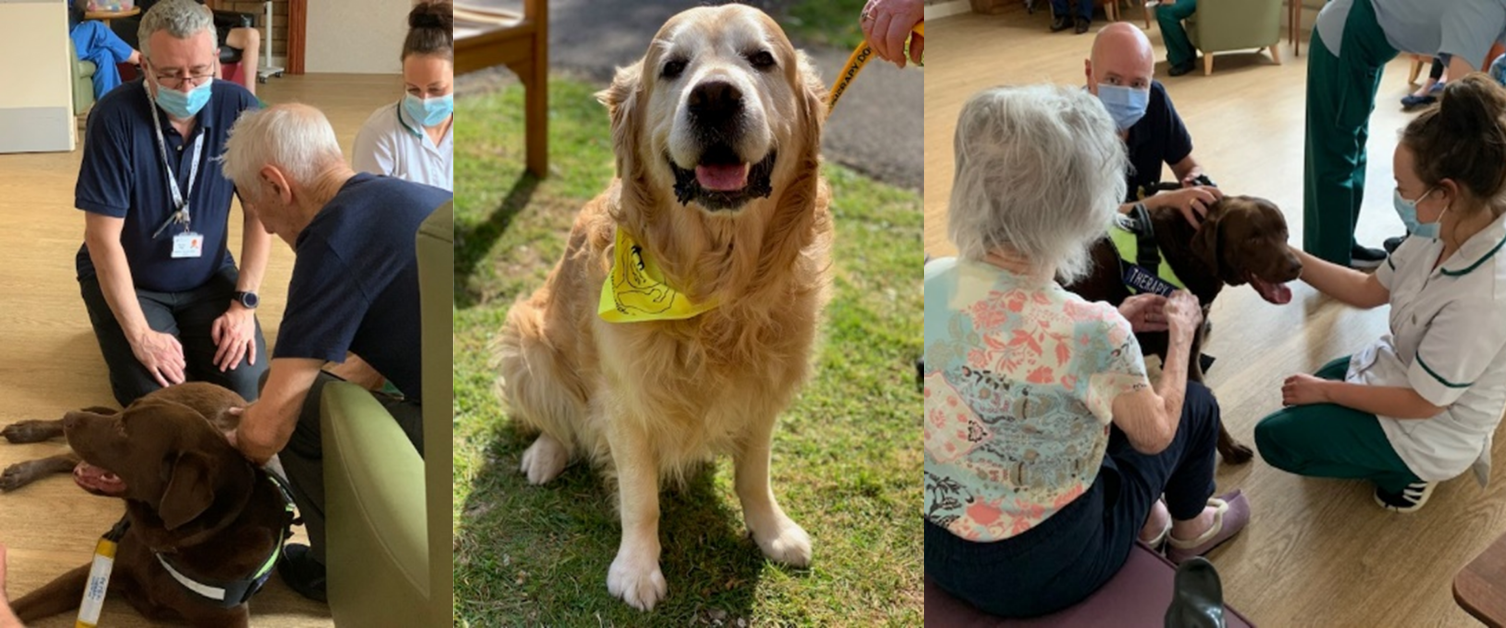 Wednesday 1st June 2022
We are delighted to announce that after 2 years on furlough, the Therapy Dog Volunteering Service is making a gradual return to the Health Board, starting in the Mental Health & Learning Disabilities Division.
Staff and patients at Ty Skirrid Ward, Maindiff Court Hospital, Abergavenny recently welcomed George and his owner Bev Bannon when they carried out their first post-Covid visit. Bev and George were recruited in 2020, but couldn't carry out their service due to the first lockdown. They have waited patiently ever since to make their debut visit!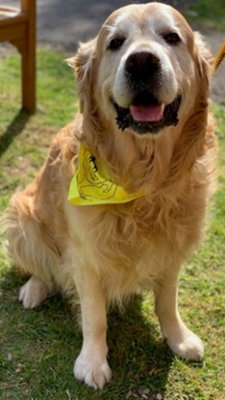 Sycamore Ward at St Woolos Hospital thoroughly enjoyed the return of Stephen James and his big Labrador Finn after a two year gap!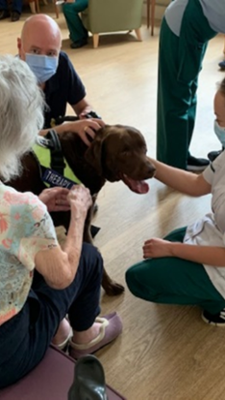 Here's Finn being stroked by a female patient and the ward's Occupational Therapist.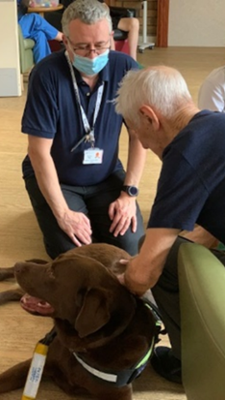 The Chaplain was delighted to make his regular visit when Finn was chilling out with a male patient who greatly benefited from his presence. After Finn's visit, one of the staff said, 'There is a gentleman on the ward who has been very low. He has lost joy in his regular activities. He often shuts himself away in his room. When the dog visited, I said to him "It's lovely to see you smile." In reply he said, "I'll try and do it more often."'
There are plans to introduce other therapy dog teams to Mental Health & Learning Disability Wards and Units over the coming weeks. We are always looking for new therapy dogs to join the Therapy Dog Volunteering Service team. The key requirements to join are:
The dog must be over 9 months of age and belong to the volunteer
Availability during the day – patients look forward to regular weekly visits, weekend visits are possible in some areas
Commitment – we need a medium to long term commitment
A level of resilience – visits are usually very rewarding, but on occasions, perhaps due to unforeseen circumstances on the ward on the day it can be less so
Interest and empathy for patients / clients
A dog that doesn't lick, jump up or bark at strangers / new situations
A dog that can adapt to new situations and is happy to be touched by strangers
A dog that will take a treat gently and walks nicely on a standard lead and collar
A dog that has been trained to achieve confidence in good behaviour and socialisation
This role would not suit a fearful or reactive dog
Before becoming a therapy dog volunteer, the following need to be completed:
A behaviour assessment carried out by Therapy Dogs Nationwide or Pets as Therapy.
Membership of Therapy Dogs Nationwide or Pets as Therapy at a annual fee of £12/£19
The Health Board's robust recruitment process, including DBS check and training sessions.
Ongoing support is provided, and the Therapy Dog Volunteering Service teams are carefully matched to the ward or unit to ensure a good fit to make the visits a rewarding experience for the dog and everyone involved.
If you are interested in getting involved, please contact Rhian Lewis, Service Improvement Manager, Infection Prevention & Control Team via Rhian.Lewis2@wales.nhs.uk