Recognising our Amazing Colleagues on International Women's Day!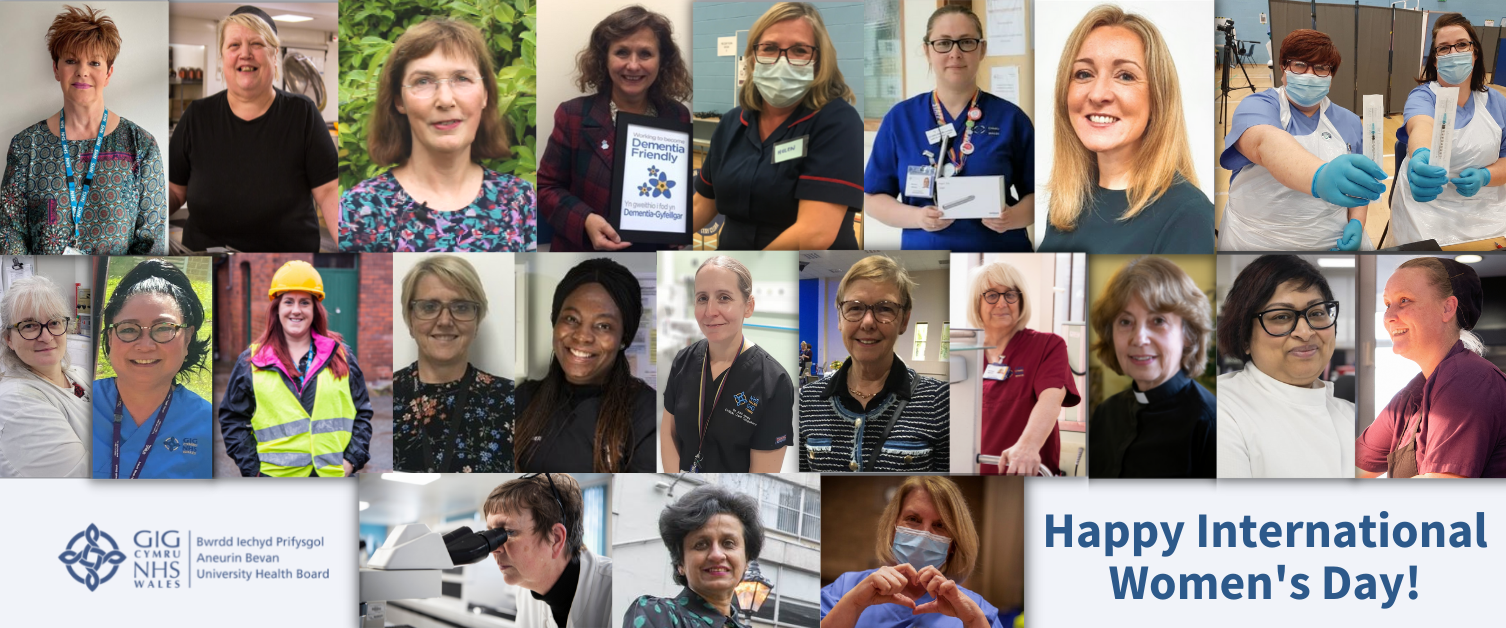 Tuesday 8th March 2022
International Women's Day, on 8th March, celebrates the achievements of women across the world.
Today, we're celebrating the achievements of our staff, who accomplish so much every day in their roles.
Making up 81% of our Health Board's workforce, we simply couldn't do what we do without them!
---
Females in Facilities
Historically, certain roles within our Facilities division, such as construction workers, porters and security staff, would be mainly dominated by males. Meet two ladies who are leading the way for our female Facilities workforce..
Rachel Jones, Health, Safety & Compliance Officer
Rachel's always had a strong interest in architecture. Coming from working in a call centre, she always pursued learning more, and after hard work and dedication, she is now a Health, Safety & Compliance Officer.
Rachel said: "There's lots more to it than just building when a hospital is open 24hrs and can't afford to be shut. Working across the Health Board with different estates teams, trades and contractors, every day is different; from fire safety, to construction design and management.
"It's all about evolving and wanting to improve but keeping that consistency, from small jobs like fixing a door to huge projects. It's such a great team here to help me do my job and thrive."
Terry Thurgar, Chef, Royal Gwent Hospital
Terry left school at 16 years old and became a Trainee Chef with the Health Board two days later. 45 years on, the Health Board is very proud to celebrate the great career she's had with the NHS.
Terry's speciality has always been dietetics and she now has a huge bank of knowledge that she uses towards creating meals for patients with specialist diets. The kitchen is often a busy place, but there is always room for extra care with food.

Terry said: "I have a huge love for homecooked meals, and my passion has always been how to bring that into what we provide for patients.

"I've always enjoyed being close to the floor and keeping up with what's going on. It's so rewarding to understand and empathise with your staff, and earning their respect through friendliness and fairness has been my biggest achievement.
"No matter what your job role is in the NHS, we're all here to provide the best service to patients."
---
In honour of International Women's Day, we asked our staff to nominate their female co-workers and to tell us why they're so proud of their hardworking colleagues. Learn more about the achievements of our female workforce below..
Rebecca Carpenter, Senior Hearing Therapist, Audiology
"Rebecca can actively listen, promote patient centred care and give incredible advice, and this just comes naturally to her. She steps well outside her job role always to support the team, encourage service improvements and to help patients.
"She is tenacious, hardworking and a great, inspiring colleague to have around. She does all this with a beaming smile always too.
"Rebecca is admired by all - staff and patients alike and we all turn to her for advice. Her experience, wealth of knowledge and approachability are second to none."
Helen Cook, Team Leader for the Physiotherapy Department for Adults with Learning Disabilities
"Helen is a powerful lady, leads by example. She will never ask any of her team to do something that she would not do herself. She always has time for her staff, no matter how busy she is. Her door is always open.
"A female activist that believes in advocacy of women's social, political, and economic rights, especially with regard to equality of the sexes. Always highlighting disability sports, the Paralympics, women's rugby/cricket/football.
"We all look up to her for many values and would not want it any other way."
Vicki Jones, Clinical Director of Community Dental Services
"I'm nominating Vicki for her continued dedication to Special Care Dentistry. Vicki, during a very difficult time for everyone, supported us all throughout the pandemic, ensuring that we were all kept safe and we were kept up-dated at all times.
"Vicki is the backbone of the Community Dental Service, and we are fortunate to have her as our Clinical Director."
Collette Kiernan, Clinical Director of Therapies at Aneurin Bevan University Health Board
"Collette is an inspirational leader and has provided clear and consistent leadership during unprecedented times. She hit the ground running and has continued leading us as we respond to ever more demanding challenges in healthcare delivery.
"Collette's accomplishes all her achievements with a warmth and humour that uplifts her team, even in the most challenging times. Despite all the pressures, she is full of concern for us as individuals and the teams we work with.
"Collette has led therapies through the most extraordinary time, with compassion and bundles of laughter."
Nicky Smith, Healthcare Support Worker
"Nicky is one of the kindest and caring nurses I have worked with. She, like many others, lost loved ones through the pandemic. Nicky just put on brave face and got on with her job, always putting the patients first. It was hard for everyone and lots of us were feeling tired and worn out. Nicky went above and beyond keeping staff morale up looking after all of us. When patients had no family, Nicky would spend her own money making sure they had whatever they needed. She also used her own mobile to allow families to speak to loved ones. The patients always praise her for all she does for them.

"The team on Risca Ward are lucky to have her and the patients. There are so many things to say about Nicky but not enough room to write it. Thank you so much for all you have done for us on Risca ward. I don't think we would have got through the last two years without you."

Dr Rachel Squires, Gynaecology Consultant
"Rachel is a truly amazing role model for her peers and junior staff alike. She works tirelessly to support her colleagues, as well as her many patients. She has made such a huge difference to the department in her role as Clinical Lead for our Fertility and Recurrent Miscarriage Services, her work ethic is second to none and she goes all out to help and support her patients.
"Her patients love her because she gives them the time to talk about how this often devastating, and highly emotive area, impacts so heavily on their lives.
"I believe she deserves recognition for her hard work and continuing battle to improve the service."
Wendy Trump, Principal Audiologist, Audiology
"Wendy is the most approachable, friendly, caring, and compassionate leader, who demonstrates strength from her incredible ability as a clinician, but also as a leader.
"She cares passionately about Audiology and driving the service for improvements and motivating us along the way too.
"I've worked with Wendy for almost 10 years. I've learned so much from her ability to listen, her empathic nature and her kind heart. She really cares and never gets the credit she deserves. She is an asset to our department, and to the NHS as a whole. I often use the mantra, 'how would Wendy approach this situation?'."
Josie Williams, Team Lead / Therapist, Primary Care Mental Health Specialist Services, Torfaen
"I am nominating this absolutely amazing lady, as she has worked so hard to get where she is. She has this amazing ability to always put her colleagues before her- she is supportive, and compassionate to everyone she meets, and, as a bonus, she is funny too!
"Josie was a shining light for me, along with many colleagues, when the world got turned upside down due to the pandemic. There are not enough words to convey how knowledgeable, caring, inclusive, and all round amazing this employee of the NHS is!"