The Dedicated Team Delivering Essential Supplies to Gwent Hospitals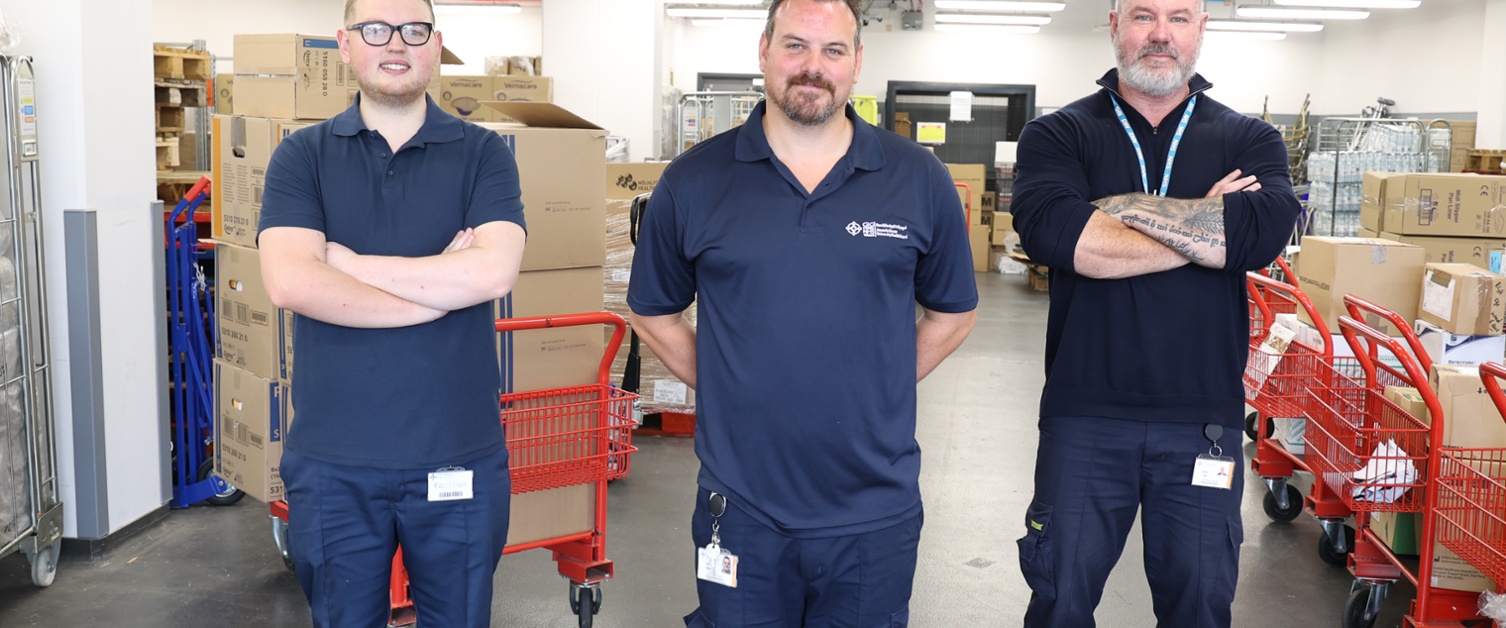 1st February 2023
Best quality care for patients is only possible if Gwent hospitals' Receipt & Distribution Stores get supplies to the right place.
Hidden away at the back of The Grange University Hospital, the Receipt and Distribution Stores (R&D Stores) is bursting with activity, receiving, receipting, and delivering parcels to ensure the hospital can function.
From medicine and operating supplies to medical equipment and wheelchairs, everything the hospital needs passes through the R&D Stores' doors.
"Sometimes it's relentless. As one lorry turns up and you get the items out, you might have two or three lorries queuing up," said R&D Supervisor, Kyle West.
Dealing with roughly 70 big cages of parcels and 700 to 800 special packages a week, the R&D Stores team rack up around 30,000 steps a day as they go back and forth organising and delivering parcels to all the different wards across the hospital.
"[You get a real] sense of self satisfaction, seeing how busy we are with lots of boxes and parcels piled up to making sure that everything has gone out."
"[But the] most rewarding thing is knowing that the job you are doing has a massive impact on patients and helps make sure they get the best care," Kyle added.
The R&D Stores team are a vital part in the day-to-day running of the hospital. Without the team sorting and delivering items to the right places on time, medical staff would not be able to do their jobs.
As Kyle said "Every job in the NHS boils down to the patient getting the best care. If we didn't do our job and get the parcels and equipment up [to the theatres] then the surgeon couldn't do their job. The nurse couldn't look after the patient if we didn't get the stock there."
Intensive Care Unit Sister, Alison Stevens, said "We are fortunate to have the team we have in R&D at The Grange University Hospital.
"Kyle and his team always go above and beyond to support critical care, from the ordering to the delivery of stock to the unit. I am always made aware if there are stock issues at IP5 (NHS Wales medicines preparation service) so that I can look at alternative products to ensure patient safety and quality care is delivered.
"I couldn't effectively do my job without them. This hospital would not function without a team of people, and the R&D department is an exceptional team of people," Alison added.
Each acute hospital in Aneurin Bevan University Health Board has its own R&D Stores to deal with deliveries. All deliveries for community hospitals and bases are handled by the R&D Stores at St. Cadoc's Hospital.