Today we are celebrating all the children and young people who are involved in our intergenerational friendships. They bring so much joy to our patients and staff and we look forward to welcoming them back at our hospitals in the future.
Gwent Police Cadets and Heddlu Bach
During the COVID-19 pandemic, The NxtGen Team of Officers from Gwent Police felt it would be a great idea to try and engage with residents who weren't able to see their families or friends in our local Care Homes. Here are Cadets Luci-ann, Callum and Eleanor writing to their friends, and letters from members of Heddlu Bach.
Alex, from Gwent Police said:
"The Police Cadets and our Mini Police (Heddlu Bach) were chosen to write letters and create pictures to help brighten the days of the residents in our Gwent Care Homes, where a number of replies were received from the residents and sent back to our Cadets and Mini Police.
We feel that this project has made a difference to the Gwent Care Home residents' experiences during COVID-19 and I know the responses from the residents have been gratefully received.
When the COVID-19 pandemic is over, we will work together so that our Police Cadets can provide a regular contact to residents within the Homes throughout Gwent."
Thank you Police Cadets! #VolunteersWeek2020
If you'd like to volunteer, please e-mail ffrindimi.abb@wales.nhs.uk

Newport Youth Justice Service
Newport Youth Justice Service have continued to connect young people and the elderly through intergenerational activities during Covid-19.
"In partnership with Aneurin Bevan University Health Board, the young people from Newport Youth Justice Service are making "Friendship Bracelets" that they give out to care home residents with an attached handmade friendship card. During these unprecedented times, it is a way of enabling the young people to help in some way and also helps to keep them occupied during the current government restrictions.
The Newport Youth Justice Service are keen for this relationship to carry on past COVID-19, whereby when restrictions are relaxed, they may be able to visit the care homes within the local area to complete craft sessions with the residents."
The Youth Justice Service have also kindly been making Pamper Bags that include necessities and a few treats for hospital staff.
Fiona Gibson, from the Youth Justice Service said: "The project involves young people who have to complete reparation hours preparing these packages for Aneurin Bevan as part of the restorative element of their intervention. The team of young people, staff and volunteers have come together, not only to keep young people engaged during lockdown but to support them in making a positive contribution to the community. So proud of this great team and the work that has been done!"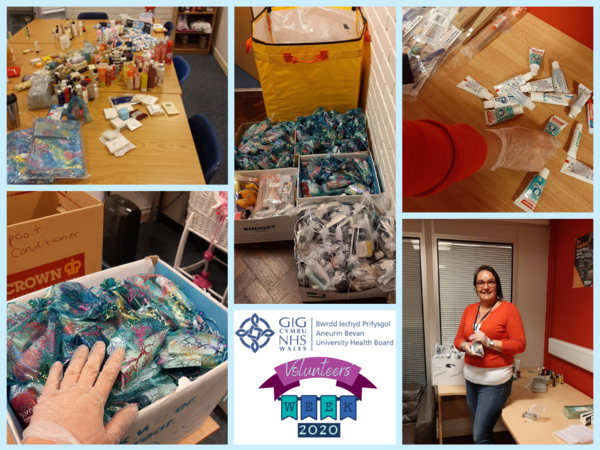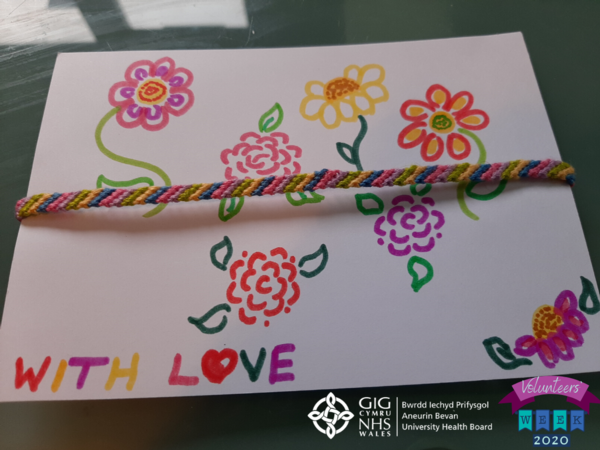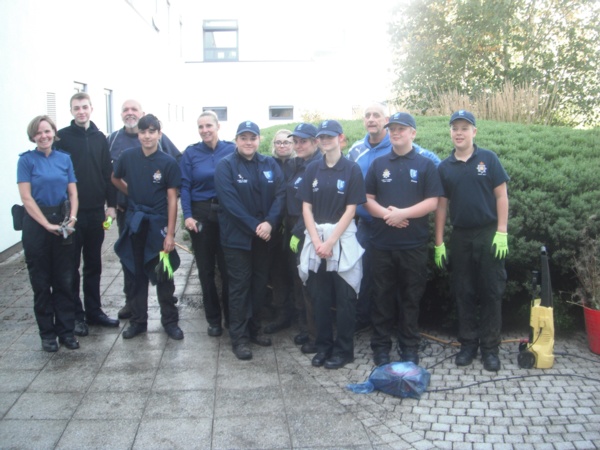 (Pictured above- Blaenau Gwent Police Cadets at Ysbyty Aneurin Bevan)