Welsh Government Shielding Scheme Paused
Welsh Government are pausing shielding in Wales on Sunday 16th August 2020.
If you have been shielding, the following Welsh Government Infographic provides advice on staying safe.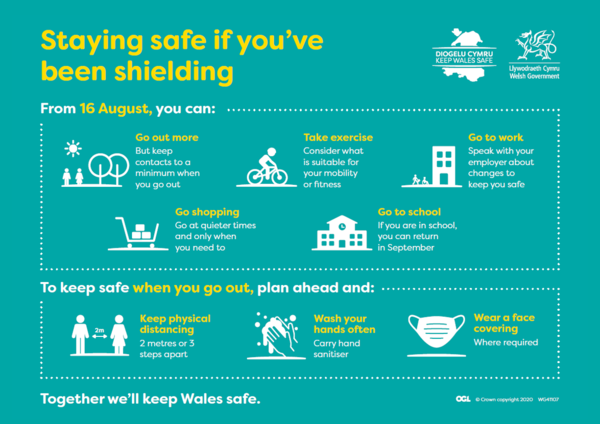 From 16 August, you can:
Go out more - But keep contacts to a minimum when you go out.
Take exercise - Consider what is suitable for your mobility or fitness.
Go to work - Speak with your employer about changes to keep you safe.
Go shopping - Go at quieter times and only when you need to.
Go to school - If you are in school, you can return in September.
To keep safe when you go out, plan ahead and:
Keep physical distancing - 2 metres or 3 steps apart.
Wash your hands often - Carry hand sanitiser.
Wear a face covering - Where required.
Together we'll keep Wales safe.