Our 'Work With Us' Recruitment Roadshows are Coming to a Town Near You!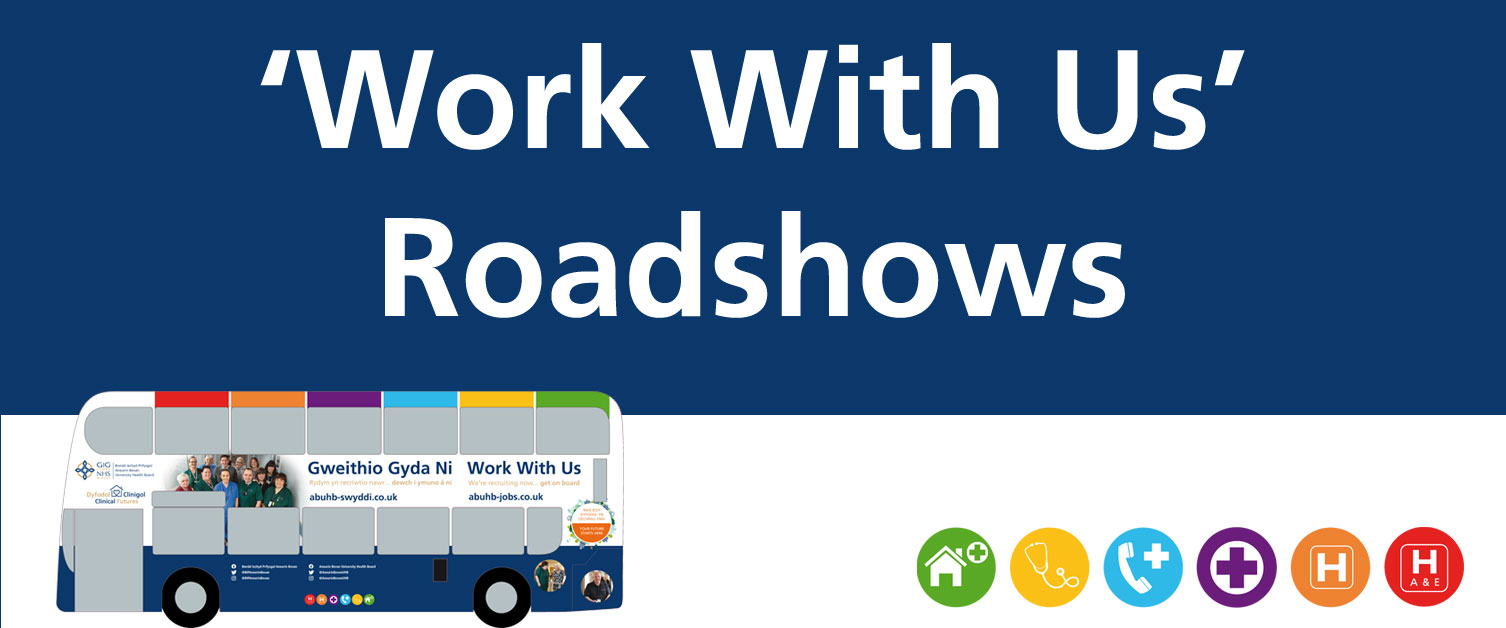 Friday 29th October 2021
Aneurin Bevan University Health Board is touring the area to recruit new members of staff and ensure local residents understand the recent changes to the healthcare system.
Ahead of the busy Winter period, we're conducting a dual-purpose engagement roadshow to fill a number of job vacancies within the local health sector, as well as to help local residents make the right choices when they need care.
When The Grange University Hospital in Cwmbran opened in November 2020, specialist and critical care services and the region's Emergency Department were centralised to the hospital. With the national staffing shortages in health and social care and the additional demands that winter will bring, there are now a host of new employment opportunities available in health care, social care and facilities management across the Health Board area.
In order to fill these vacancies, the Health Board will visit different venues within its five local authority areas- Blaenau Gwent, Caerphilly, Monmouthshire, Newport and Torfaen- over the coming months, starting on Saturday 30th October 2021.
Some of these events will feature a Health Board-branded Work With Us bus, and are open to anyone in the Health Board area. Attendees will have an opportunity to learn about the wide variety of upcoming job opportunities in the local health and social care sector, as well as gaining an understanding of the changes to healthcare services and what this means for them and their families.
With over 14,000 existing employees, Aneurin Bevan University Health Board is an equal opportunities employer and offers a host of benefits for its staff, including access to the NHS Pension Scheme, flexible working options, generous holiday allowance and competitive rates of pay.
Glyn Jones, Interim Chief Executive of Aneurin Bevan University Health Board said:
"This is a really exciting time for our Health Board and we're thrilled to be able to offer even more recruitment opportunities in the area. We have a vast number of new vacancies available, and we're looking forward to engaging with our local population and finding the best possible candidates for the jobs we have on offer.
"This is also a great opportunity for us to help our residents understand the recent changes to the way they access healthcare, and to ensure they know how to determine the most appropriate health service for them when they need care."
"Whatever you'd like to know more about, come and get on board with us!"
Find out more about our Work With Us Roadshows.